Manli, a Hong Kong based hardware manufacturer has registered the new graphics card models bearing the names GTX 2080 and GTX 2070 with the ECC (European Care Certificate) authority. The GPUs GA104 and GA104-400 have also been mentioned in the ECC notification number KZ0000001569 indicating that the new cards might be based on the Ampere architecture. The notifications have since then been edited to remove these model numbers. If correct, then this leak effectively puts to rest all rumours regarding the architecture and the naming scheme for the upcoming NVIDIA GeForce GTX graphics cards. The ECC listing was spotted by a Twitter User by the name of @KOMACHI_ENSAKA.
ECC GTX 2080 and GTX 2070 Notification
Notification number KZ0000001568 was filed on the 20th of July 2018 by Manli Technology Group Ltd. and it lists the model numbers GTX 2080 and GTX 2070 under the section "Full name of the product".

The accompanying notification KZ0000001569, which was also filed on 20th July 2018, lists the GPU names GA104 and GA104-400. The 104 series have often been at the heard of the GTX XX80 and GTX XX70 graphics cards.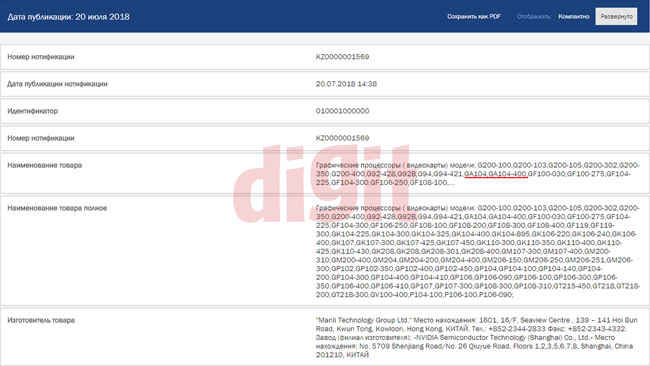 Up until now, these GPUs were expected to be based on either the Volta architecture since the GTX TITAN V came out with the same. Or on the Turing architecture which has been the favourite of rumours and leaks thus far. Since the document has been edited to remove these GPUs and graphics cards, we have no way of confirming either of these. Also, there is no GTX 1070 and GTX 1080 in this document which has listed every other graphics card launched so far after Fermi. So in all likelihood, this could be a typo. However, the presence of the GPU names GA104 and GA104-400 seems hardly a typo.
NVIDIA GTX 2080, 2070 launch date
As of now, we just know that the graphics cards are going to be unveiled at Gamescom 2018 which is taking place in Germany from August 21-25th, 2018. NVIDIA has already teased a spectacular surprise at Gamescom 2018.
We've chronicled all the rumours and leaks regarding the upcoming NVIDIA graphics cards here.
For more technology news, product reviews, sci-tech features and updates, keep reading Digit.in or head to our Google News page.