Nvidia has released new GeForce drivers that bring Ray Tracing capabilities to some older Pascal-based cards. This means that if you're currently using any of the 10-series GPUs in your PC or laptop, you will be able to enjoy some low-level ray tracing in Ray-Tracing enabled games. Do note that Nvidia has only brought Ray Tracing to the older GPUs and not their Deep Learning Super Sampling (DLSS) since DLSS particularly requires Tensor Cores to operate. As of now, only the RTX-series GPUs have tensor cores.
Nvidia outlines that Ray Tracing works in three distinct types of workloads; Shadows, Reflections and Global Illumination. While shadows and reflections are relatively lighter workloads, global illumination does require some very heavy lifting on part of the RTX cores. Metro: Exodus is the first game to incorporate Global Illumination and we have already seen how the game is extremely demanding of all the PC hardware.
The new GeForce drivers enable DXR on the below-listed GPUs
GeForce GTX 1660 Ti
GeForce GTX 1660
NVIDIA TITAN Xp (2017)
NVIDIA TITAN X (2016)
GeForce GTX 1080 Ti
GeForce GTX 1080
GeForce GTX 1070 Ti
GeForce GTX 1070
GeForce GTX 1060 6GB
Laptops with equivalent Pascal and Turing-architecture GPUs
Nvidia has said that cards with less than 6GB of VRAM just do not have enough power to do the heavy lifting required of them for ray tracing. For Metro Exodus, Nvidia says turning on Ray Tracing at 1080p will not result in playable frame rates except on the GTX 1080Ti. However, for Battlefield V and Shadow of the Tomb Raider which uses lighter ray tracing loads, the numbers are a little more promising, revealing just about playable (if not better) frame-rates. Just for reference, the Turning-based RTX cards are capable of processing 10Gigarays/second while the GTX cards are capable of processing only 1.1Gigarays/second.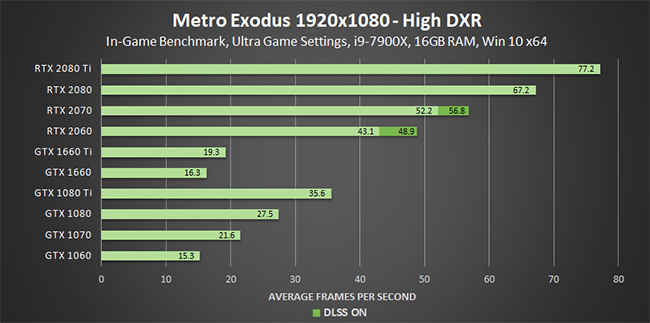 Metro Exodus frame rates with DXR enabled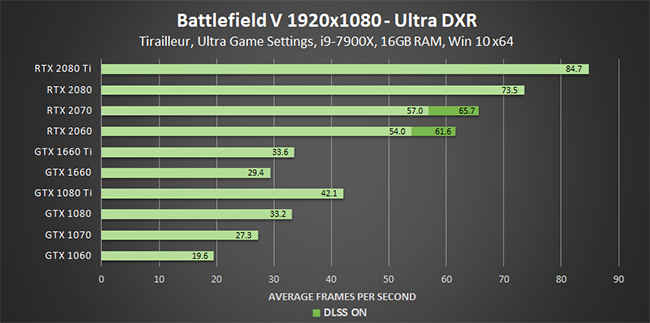 Battlefield V frame rates with DXR enabled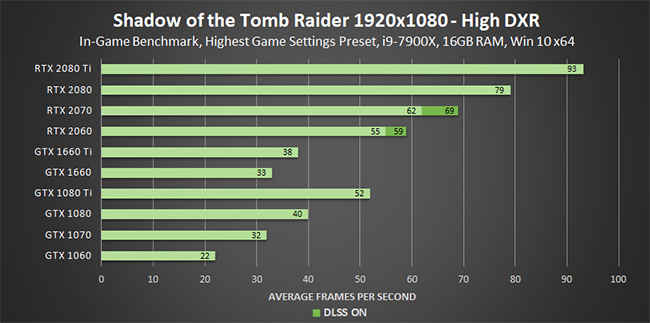 Shadow of the Tomb Raider frame rates with DXR enabled
You can download the latest Nvidia GeForce drivers from the company's website to experience ray tracing on compatible cards. Do note that you will not be able to get the level of frame rates with DXR enabled as you would with the feature disabled. Additionally, the GTX cards, as shown by the numbers shared by Nvidia, do not match the performance of the RTX cards either. While enabling ray tracing on older cards, it will serve as a good way for users to experience what the feature and help people decide whether they want to upgrade to the higher RTX cards or not.
Related Reads: Understanding real-time ray tracing: The RTX Way