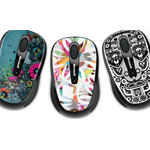 Let's be honest,
mice
aren't the most exciting space in the technological industry. There are the few gems that make the average Joe do a double take, like the
Arc Touch
, but it's regularly the gaming category that tend to add all the spice and flare in the space. However, Microsoft is looking to tailor these navigational devices to fit your style with its 3500 Studio Series mice collection.
[RELATED_ARTICLE]The 3500 mouse offers little in the way of a new form factor; it lacks any other buttons than the right and left click, and the button function on the scroll wheel. The device caters to both righties and lefties and the sides of the mouse have a soft rubberized texture. It connects to your PC via a wireless USB thumb stick, communicating with the mouse over a 2.4-GHz frequency. It does have plug-and-play capabilities, but for those who like to customize, software is available to adjust pointer speed and other options. The top of the mouse is really the highlight of the entire design, which can sport one of six illustrations by one of five artists commissioned for this project.
Microsoft held an unveiling event in NYC where artist
Mike Perry
gave a demonstration, creating several unique designs using white mice as his canvas. The other artists, who live as far away as Australia, were unable to attend, but their "pieces" were put on display in mice form and as portraits. Copyright © 2010 Ziff Davis Publishing Holdings Inc.