Logitech today unveiled their latest wireless products in India, which included the Logitech Touch Mouse M600, featuring a touch surface instead of buttons, also allowing users to scroll and swipe without a wheel.
The Logitech Touch Mouse M600 has been priced at Rs. 3,999. It comes with the Logitech Unifying receiver, allowing users to connect up to six compatible mice and keyboards. With the touch surface instead of hardware buttons (like the Microsoft Arc Touch Mouse, Microsoft Touch Mouse, and Apple Magic Mouse), users can assign their own choice of left and right-click buttons easily, using Logitech SetPoint software.
The M600 also comes with Logitech Flow Scroll software that helps smooth-out scrolling. Compatible only with Windows 7, the 1000 DPI Logitech Touch Mouse M600 weighs in at 107.7 grams with the battery, and comes with 3-year limited hardware warranty.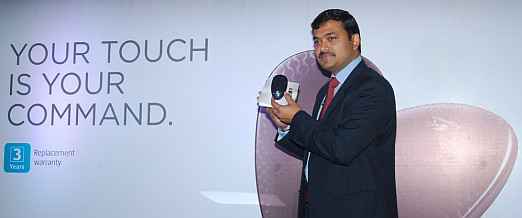 Other products that were showcased as the latest additions to the Logitech wireless umbrella are listed below. Commenting on the fast rising adoption of wireless technology by consumers, Subrotah Biswas, Country Manager of Logitech India and South West Asia, said:
"People are becoming more accustomed to touch devices using fingertip gestures to navigate on their smartphones and tablets. Today, one wants the device to react to a touch of a fingertip. Logitech is a customer centric organization which strives to provide enhanced technology experience to consumers and to give them the joy of being immersed in the digital world."

"The recent wireless survey has revealed that India has a huge opportunity for the wireless technology adoption as only 10% of the consumers have embraced this technology as of today; but on the contrary, there's a high awareness of wireless mice (98%) and keyboard (88%)."
Logitech Wireless Product Range
Wireless Illuminated Keyboard K800
Wireless Solar Keyboard K750
Wireless Touch Keyboard K400
Cordless Number Pad N305
Logitech Wireless Keyboard K270
Wireless Keyboard K230
Wireless Desktop MK710
Wireless Combo MK520
Wireless Desktop MK320 - USB
Wireless Combo MK260
Wireless Combo MK220
Performance Mouse M950 - USB
Anywhere Mouse M905 - USB
Touch Mouse M600
Wireless Touchpad
Bluetooth® Mouse M555b - USB - Black
Wireless Mouse M515
Wireless Mouse M525 - Black China
Wireless Mouse M525 - Blue
Wireless Mouse M525 – Red
V470 Cordless Notebook Mouse Bluetooth
Wireless Mouse M310 – USB
Wireless Mouse M325
Wireless Mouse M235
Wireless Mouse M185
Wireless Mini Mouse M187