Qubo Smart Security WiFi Camer with Face Mask Detection
India's most versatile weatherproof outdoor camera that protects your outdoors 24x7 and provides crystal-clear video streaming day and night through the qubo mobile app.
Click here to know more
Advertisements
Intel has finally confirmed rumours of a partnership with AMD with announcement of the new Intel 8th Gen Core CPUs with Radeon RX Vega M graphics. The five CPUs that are being announced today are all mobility chips with little news of desktop counterparts. All five CPUs are 4 core / 8 threaded including the Core i5-8305G and will have both Intel HD Graphics and Radeon RX Vega M graphics. The latter is available in two configurations, the Radeon RX Vega M GH and the Radeon RX Vega M GL. Preliminary graphics benchmarks shared by Intel peg the CPUs with Radeon RX Vega M GH to be better than the NVIDIA GTX 1060 Max-Q.
Intel 8th Gen Core CPUs with AMD Radeon Vega M graphics
As mentioned previously, there are five CPUs at launch with each CPU possessing one of the two Radeon Vega M configurations. Here are the CPU specifications in detail.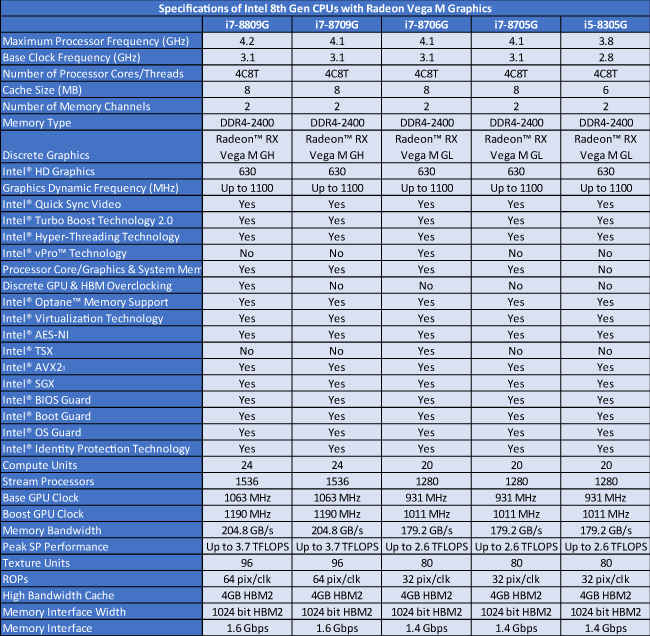 Except for the Core i5-8305G, all of the new CPUs announced today have a base clock of 3.1 GHz. The 8305G has a base clock on 2.8 GHz. And when Turbo Boost kicks in, the clock speed can go up by at least 1 GHz, and 1.1 GHz in case of the flagship Core i7-8809G. It should come as no surprise that the suffix 'G' indicates the presence of Radeon Vega M graphics.
Intel 8th Gen Core CPU with Radeon RX Vega M graphics performance
The two graphics solutions powered by Radeon Vega M have very similar configurations with the Vega M GH being the more powerful one compared to the Radeon RX Vega M GL. This is attributed to the fact that not is the Vega M GH packing more Vega Compute Units but it is also clocked higher and has twice the number of ROPs. Both configurations make use of HBM2 memory to save space.
The Radeon RX Vega M GL has 20 Compute Units which have 1280 Stream processors and is clocked at 931 MHz. Boost clock can drive that up to 1011 MHz. It comes with 4 GB of HBM2 memory right on the package. In the graphics benchmarks shared with us, the RX Vega M GL SKUs are shown to be up to 1.4x more powerful than the NVIDIA GTX 1050. It should be noted that the CPU being paired with the GTX 1050 is an Core i7-8550U which is the low power SKU from Intel. The more compact laptops ship with the Core i7-8550U while mainstream gaming laptops prefer the Core i7-7700HQ.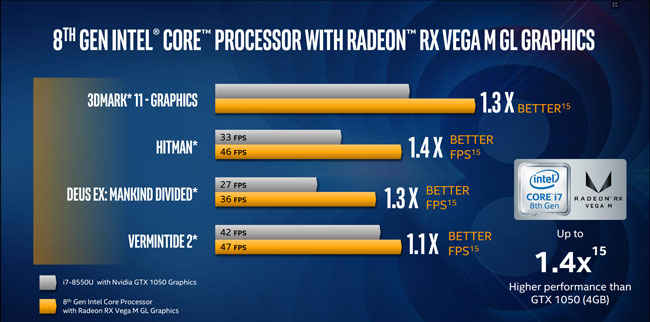 Moving on to the benchmarks of the Radeon RX Vega M GH SKUs. We see yet another tremendous amount of performance and this time, in comparison with the NVIDIA GTX 1060 Max-Q. The Vega M GH is reportedly 1.13x better than the GTX 1060 when clubbed with an Intel Core i7-7700HQ.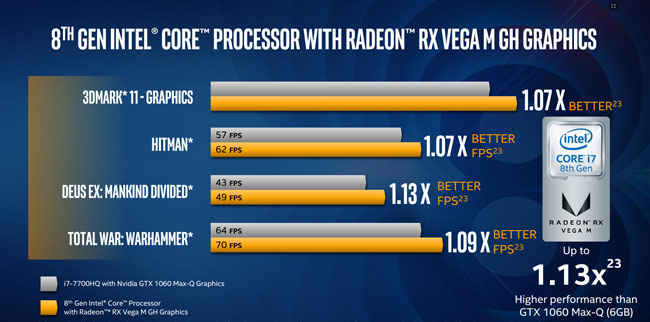 It goes without saying that a single package having a powerful CPU and GPU poses a huge threat to NVIDIA graphics business in the mobility segment since there is an enormous amount of space saved which leaves plenty of room for laptop OEMs to squeeze in more features. So if the manufacturer wants to, then they can provide more value for money within the same amount of space in laptops powered by the new 8th Gen Intel CPUs.
Intel's renewed focus on gaming
Hardware is just one half of the solution. Both NVIDIA and AMD are known for providing Day Zero Graphics Driver. With Intel now jumping into the mix, it too has plans to provide the same with https://gameplay.intel.com/ being their new gaming-focused portal.
Additionally, the new CPUs share power between them which ought to complicate overclocking, however, both Intel and AMD have software solutions for the same. Intel's Extreme Tuning Utility and AMD's Radeon WattMan can be used to overclock the CPU, GPU and HBM units. Moreover, this would essentially bring FreeSync support to a much wider range of devices making it more difficult for NVIDIA's G-Sync to compete. As of now, there are a lot more Freesync monitors available on the market compared the G-Sync since the latter requires a proprietary chip which in turn, increases cost.
Devices out in Q1 2018
Laptops and small form-factor PCs with the new Intel 8th Gen Core CPUs announced today are reportedly, set to hit the market in Q1 2018. Intel has already unveiled their offerings in the form of two NUCs - NUC8i7HVK and NUC8i7HNK.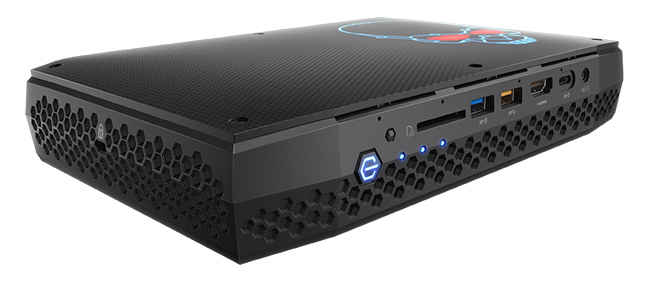 The NUC8i7HVK is based on the unlocked version of the new 8th Gen Intel Core processor with the Radeon RX Vega M GH graphics, and the NUC8i7HNK uses the 8th Gen Intel Core processor with the Radeon RX Vega M GL graphics. Partners HP and Dell will have devices out in Q1 2018.