Vostro 3501
Popular tech to stay connected anywhere. Save more on exciting Dell PCs.
Click here to know more
Advertisements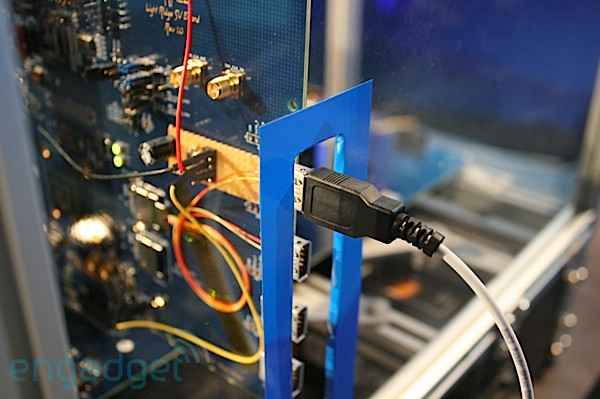 Intel has confirmed rumors that it's temporarily switching to copper wires for use in the company's Light Peak connection technology. While that might upset those who were looking forward to the, well, "light" part of Light Peak—fiber-optic cabling—it will nevertheless allow Intel to get Light Peak out the gate faster than anticipated.
In fact, it's done.
In an interview with the IDG News Service, Intel executive vice president David Perlmutter said that Light Peak is ready to be implemented by device makers, beating initial estimates that the connection technology would be ready by a target date of 2012. Apple's been one of the companies rumored to be looking into sticking Light Peak into its product lineup as early as the first half of 2011. And Sony, longtime supporter of Light Peak, is rumored to be implementing the connection technology into products as well.
[RELATED_ARTICLE]Although data transmission speeds will reach higher levels with fiber-optic cabling—including a proposed scale of up to 100 gigabits per second within a decade—the reality on the ground is that optical cabling is quite expensive compared to copper. Intel tipsters have indicated that the company will still be able to hit its initial target of 10 gigabits per second using copper cabling which, itself, will be more than adequate for the typical short connection lengths needed by computer consumers.
In past demonstrations and announcements, Intel has trumpeted a future where the myriad of external connectors—USB, Firewire, network cables, monitor cables, et cetera—are blended into a single, unified Light Peak connection. However, the company has so far been reluctant to speak to which specific technologies Light Peak might replace.
The technology obviously puts the recently released USB 3.0 protocol into the crosshairs, given that the maximum throughput of a Light Peak connection—10 gigabits per second—is more than double that of USB 3.0's maximum transfer rate of 4.8 gigabits per second. However, Intel has also spoken to the two connections being more complementary than competitive.
Light Peak, after all, could fuel the actual cabling itself that runs underneath the USB 3.0 protocol, leading to longer (and thinner) wiring whose transfer speeds are only limited by the conventions of the protocol it connects. And as we mentioned earlier, Light Peak could also be used to connect, say, a computer to a single hub device, which then fuels accessory connections instead of having a Medusa of wires stemming out from one's desktop PC.
No matter what, however, Intel will have to switch to fiber optics if its full dreams for the connection technology are to be achieved. Until then, however, getting the connection out earlier might be just what Intel needs to convince the rest of the market to start stepping into the Light.

Copyright © 2010 Ziff Davis Publishing Holdings Inc.