Earlier today, Intel introduced the 6th generation of its Core processor family, calling it the "best processor ever". According to Intel, the new architecture will result in greater CPU and GPU performance, that is up to two and a half times the performance of an average 5-year-old computer. It will also reduce power consumption, and deliver three times more battery life. The new range of processors have been optimised for the best Windows 10 experience.
The Skylake microarchitecture will feature the same 14nm fabrication process, as seen on the 5th generation Broadwell architecture. Despite delivering enhanced performance, the 6th generation processors can be half as thin and half as heavy, while also having a faster wake-up time. The GPU performance is expected to be 30 times better than an average 5-year old computer. The new processor family will also have support for the widest range of devices, ranging from all-in-one desktops to ultra-mobile compute sticks. "6th Gen. Intel Core processors deliver some of the most significant advancements in computing that we've ever seen," said Kirk Skaugen, Intel's senior vice-president.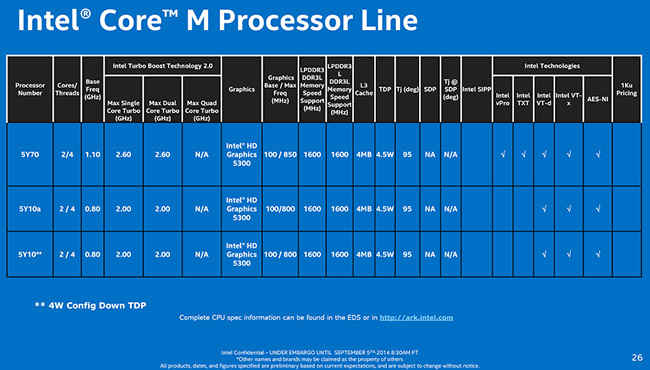 The Skylake architecture can be implemented across a broad range of designs to suit every computing needs. The Intel Core M processor range is being offered at three levels — Core m3, m5, and m7. They can offer twice the performance, comparing to leading premium-end tablets. A new variant of the Compute Stick has now been introduced, powered by the new Core M processor. Overclocking enthusiasts have reasons to rejoice, as a mobile "K" SKU (Stock Keeping Unit) has been unlocked to provide unprecedented manual control on mobile platforms. A new Core i5 processor has been introduced, that Intel claims will improve mobile multitasking by up to 60 percent. Apart from that, the Xeon E3 family will now power mobile workstations too. Intel is employing the new Speed Shift technology that will greatly enhance responsiveness in mobile systems, along with reducing power consumption.
With DDR4 set to replace the existing DDR3 memory standard, the new lineup will have support for both. A host of new Skylake-based devices will feature Intel's RealSense technology. 2-in-1s, notebooks, and all-in-one desktops will be able use the depth sensing technology for scanning 3D objects, taking 3D selfies, and facial recognition features. Over the next few months, Intel plans on releasing more than 48 new processors, as well as the Intel Xeon E3-1500M processor family for mobile workstations. It will also offer more than 25 products under the Internet of Things purview, with medical, retail and digital surveillance industries set to benefit a great deal from the improvements in the 6th generation Intel Core processors.