NVIDIA CEO Jensen Huang announced the GeForce RTX 30 series of graphics cards including the RTX 3090, RTX 3080 and RTX 3070 at a virtual event today. The RTX 30 series is based on the NVIDIA Ampere microarchitecture and boasts of 2x performance and 1.9x the power efficiency over the previous NVIDIA Turing based RTX 20 series of GPUs. Ampere cards will use a Samsung 8nm process specifically designed for NVIDIA. The founders edition NVIDIA GeForce RTX 3090 graphics card will be priced at INR 1,52,000 in India. The RTX 3080 and the RTX 3070 will be priced at Rs 71,000 and Rs 51,000, respectively.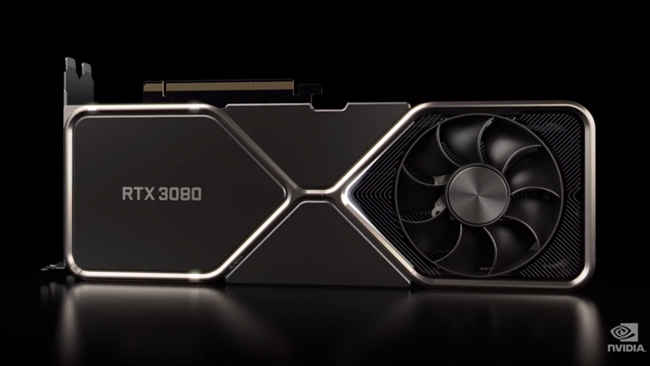 "Today's launch of NVIDIA Ampere GPUs is a giant step into the future," said Huang. "The work of thousands of engineering years, the GeForce RTX 30 Series delivers our greatest generational leap ever. NVIDIA RTX fuses programmable shading, ray tracing and AI for developers to create entirely new worlds. Twenty years from now, we'll look back and realize that the future of gaming started here."
NVIDIA Ampere Streaming Multiprocessors
Compared to the older Turing Streaming Multiprocessors (SMs), the new Ampere SMs boast of 2x FP32 throughput. Ampere also uses 3rd Gen Tensor Cores which reportedly provide up to 2x the throughput of the Turing cores. The high-end Ampere cards use an 18-phase power supply and sport new 12-Pin MicroFit power connectors. All Ampere cards also support PCIe 4.0 although current gen graphics cards can't even saturate the full potential of PCIe 3.0. Overall, Ampere claims to have 1.9x performance-per-watt improvement over Turing.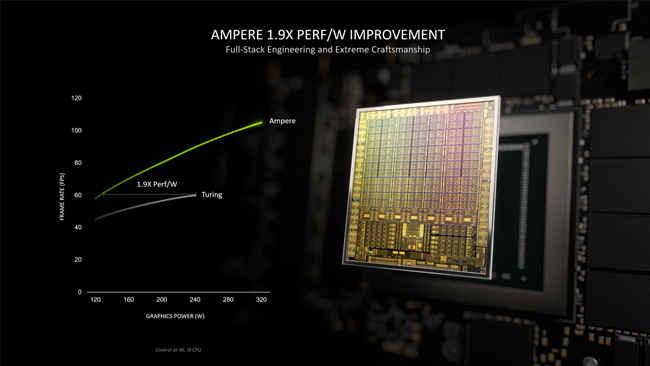 NVIDIA Ampere RTX 30 vs RTX 20 performance
NVIDIA claims that the RTX 30 series provide 2x the performance in ray-traced video games and when compute intensive tasks such as ray-tracing and DLSS are turned off, the RTX 30 cards supposedly provide pascal-like performance increments. For better perspective, NVIDIA did release a graph showing relative performance.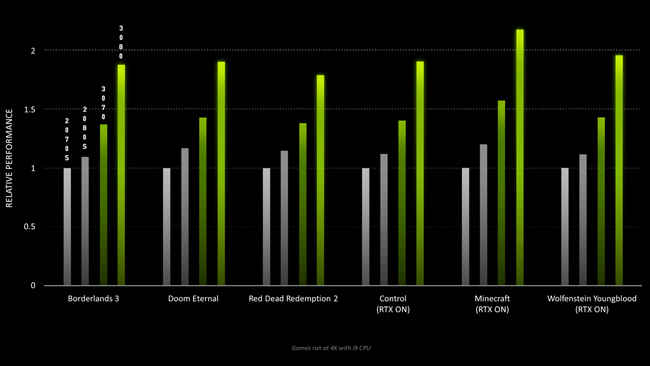 With the RTX 3070, games such as Borderlands 3, Doom Eternal, Red Dead Redemption 2, Control, Minecraft RTX, Wolfenstein Youngblood were shown to have about 1.3-1.4x performance over the RTX 2070 Super and the RTX 3080 provides nearly 1.9x performance over the RTX 2070 Super. When compared with the RTX 2080 Super, the RTX 3080 provides about 50-60 per cent more performance. These are all approximations based on the graph released, we'll get a better idea when the cards are benchmarked.
NVIDIA GeForce RTX 3090, 3080 and 3070 Specifications
The specifications for the three RTX 30 cards when compared to their RTX 20 counterparts let you know exactly how they are positioned. With 24 GB of memory, the RTX 3090 is akin to the RTX TITAN and would be targeted at workstations and multitasking machines which require a lot of CUDA cores. Whereas, the RTX 3080 and RTX 3070 are very much similar to the RTX 2080 and RTX 2070 in terms of positioning. Which bears the question, what's the equivalent for the RTX 2080 Ti? It would appear that NVIDIA is holding back till AMD's RDNA2 "Big Navi" cards are released in November 2020. We should hopefully see RTX 3080 Ti or Super cards that equal or beat the RDNA cards as a reaction to AMD's cards.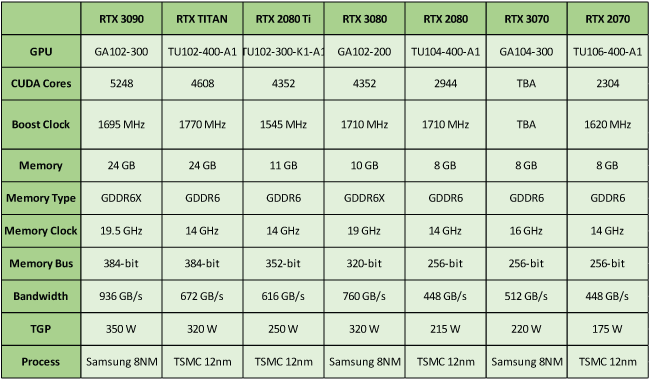 NVIDIA GeForce RTX 3090, 3080 and 3070 Pricing
The Founder's Edition NVIDIA GeForce RTX 3090 will be priced at Rs 1,52,000 (One lakh fifty two thousand Rupees), the GeForce RTX 3080 will be priced at Rs 71,000, and lastly, the GeForce RTX 3070 will be priced at Rs 51,000 in India. Compared to the older RTX 20 series, this is a significant increase for the RTX 3090 and the kidney and liver jokes can start anew. However, the RTX 3080 and RTX 3070 pricing seem to be similar to the launch prices for their RTX 20 counterparts. Launch price for the RTX 2080 Ti Founder's Edition was Rs 1,02,500 and the RTX 2080 started off for Rs 68,500 and lastly, the RTX 2070 was priced at Rs 51,200.
NVIDIA GeForce RTX 3090, 3080 and 3070 Availability
The RTX 3080 will be the first card to be available and it will go on sale on Sept 17, 2020. It will be followed by the RTX 3080 on Sept. 24, 2020 and all we know about the RTX 3070 is that it will go on sale in October 2020. NVIDIA sells the Founder's Edition cards on their own website in India but partner cards are sold in all specialist computer stores offline and on popular ecommerce outlets such as Amazon.in and Flipkart.com.
For more technology news, product reviews, sci-tech features and updates, keep reading Digit.in or head to our Google News page.