Epson has released a new multimedia projector for the Indian market, the EP-825.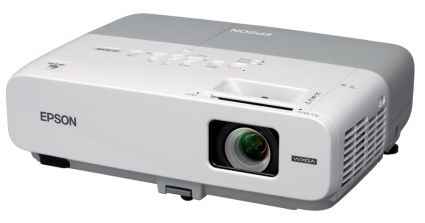 The projector boasts of Epson's 3LCD technology and has a native resolution of 1024x768 pixels, a 1.6x zoom lens, a brightness rating of 3000 lumens and a contrast ratio of 2000:1 for sharper and clearer projections.
Other features of the device include:
Long Lamp Life and Easy Maintenance
Lamp life for the EB–825 is an impressive 5,000 hours in high brightness mode or an amazing 6,000 hours in low brightness mode. We even back our lamps with a full 12 month, 750 hour lamp warranty giving you the peace of mind. By the time you need to change the lamp in the EB-825, you may have changed up to 2.5 lamps if you had used a competitor's product from this category. Maintaining the EB–825 is easy even when ceiling mounted. Changing the filter or lamp is a simple in–situ, end–user changeable operation meaning you don't require the additional expense of a visit from a service agent.
USB Display Function and USB Memory Slide Show
The EB–825 can display your presentation via a connection to a PC with a simple USB cable. You can also create and display images directly from a USB memory device, making it possible to give presentations without the need for a PC.
Network Functionality
With the EB–825, monitoring and operation can be carried out from a remote PC via network connection. System Administrators can turn the projector off, switch between sources, as well as control and monitor lamp and temperature conditions. Using this feature you can be sure that all projectors are operating correctly and be certain that all units are turned off at the end of the day and in the process, save time, money and reduce drain on the environment.
Wireless Connectivity
With the addition of the ELPAP03 Wireless LAN Unit, the EB–825 becomes a part of your 802.11a/b/g wireless network. For incredibly easy peer–to–peer wireless connection on the fly without the need for additional software, add the ELPAP05 Easy MP quick wireless connection USB key.
Available with a 3-year warranty for the projector and a 1-year warranty for the lamp, the EP-825 retails at Rs 77,800.