An article describing the latest products leaked by Dell, including the Android or MeeGo based Dell Sparta and Athens netbooks, and the looking glass pro. The information was gleaned from a leaked roadmap.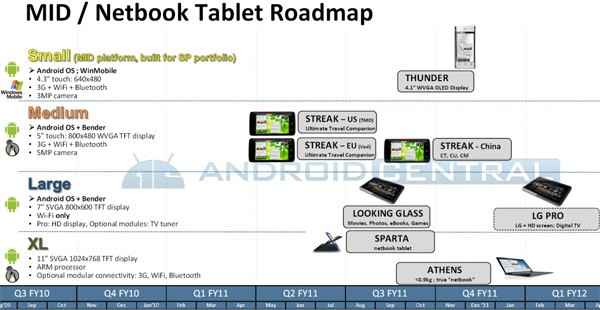 Dell's leaks don't seem to end, and that makes us happy. What's slipped through now? A roadmap of Dell MIDs, tablets, and netbooks that stretches from Q3 2010 to Q1 2012, containing three never before heard of devices: Athens netbook, Sparta netbook tablet, and Looking Glass Pro. This seems to be an old roadmap, as it features some old names for Windows Phone 7 and MeeGo operating systems, referring to them as Windows Mobile and Moblin respectively, and referring to the ASTRO file management application as Bender.
We've already heard of the Looking Glass and seen its specifications, and it seems the Looking Glass Pro version will feature a couple more features: an HD screen and a TV tuner for digital TV.

The Sparta netbook tablet (featuring the tablet as a detachable display) and Athens netbook look interesting, and will be based on either the Android or MeeGo platform, featuring a 11-inch SVGA 1024x768 TFT screen with an unspecified ARM processor, and optional 3G, WiFi and Bluetooth connectivity. They are expected to be launched between Q3 and Q4 of 2011. Quite a long wait…
Some more information can be gleaned from the roadmap: the Dell Streak (Mini 5) will be releasing in three different markets with the following providers: T-Mobile for the United States, Vodafone for Europe, and China Mobile, China Unicom, and China Telecom for China. The release dates look off - as we already know the Dell Streak willbe releasing in summer this year, around June/July - and this inaccuracy may skew the remaining release dates, so we'd advise you to take them with a pinch of salt. The specifications revealed however, match up to what know about the devices.