AMD always has a bevvy of exciting announcements at COMPUTEX and this year is no different. AMD announced the new AMD Ryzen 7000 series desktop processors based on their upcoming 'Zen 4' microarchitecture and will be built on an optimised 5 nm process node from TSMC. The new desktop processors will also bring the AM5 socket to the fore along with the new 600-series chipset based motherboards. Other announcements included new notebook designs, Ryzen "Mendocino" and the implementation of Microsoft's DirectStorage API. AMD Ryzen 7000 series processors will be formally launched in Fall 2022 which is late Q3-to-Q4.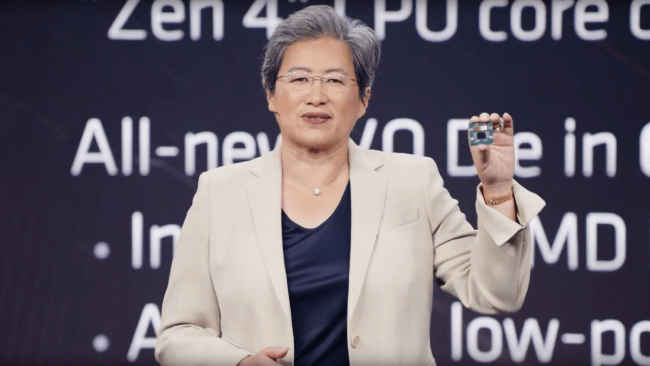 AMD Ryzen 7000 Series desktop processors
The AMD Ryzen 7000 series CPUs will feature AMD's new "Zen 4" microarchitecture which promises more than 15 per cent uplift in Single-Threaded performance. This was calculated by comparing the Cinebench R23 scores of an AMD Ryzen 5950X (16-Core) combined with a dual-channel DDR4-3600CL16 memory configuration against an AMD Ryzen 7000 series (16-Core) which was combined with quad-channel 2x16 GB DDR5-6000CL30 memory configuration.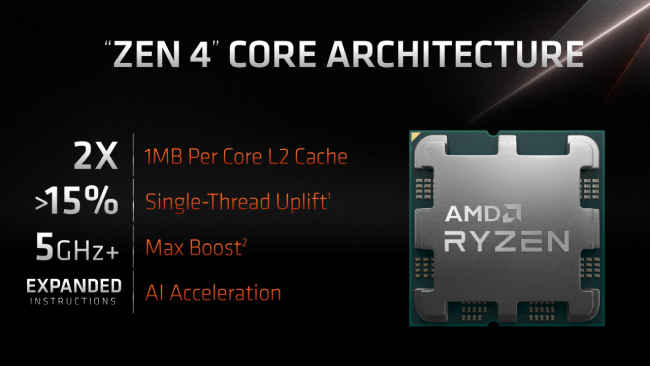 L2 Cache has doubled per core and is now at 1 MB compared to Zen 3. Peak clock speeds will also cross 5 GHz and the processors will now feature an expanded instruction set aimed at providing AI acceleration. The AMD Ryzen 7000 series processors will continue to rely on the chiplet design with the desktop processors featuring up to 2x chiplets or CCDs (Core Complex Dies). The actual core counts within the CCDs were not revealed. The majority of the new changes are focused on the I/O die which is now based on a 6 nm process node and will feature AMD RDNA 2 Integrated Graphics making every AMD Ryzen 7000 series processor capable of providing a display signal without the need for a discrete graphics card. Also new are DDR5 memory and PCIe 5.0 controllers within the I/O dies.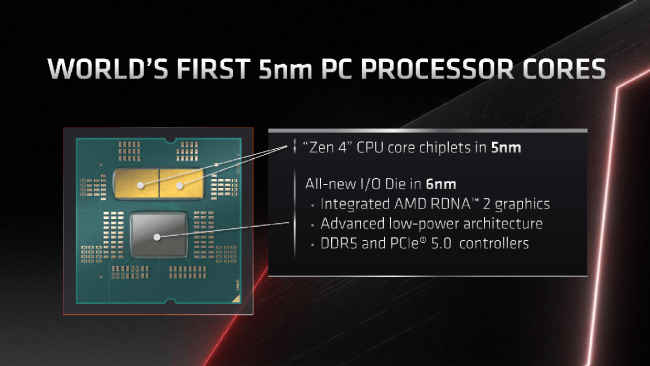 It's very likely that the expanded instruction set offering AI Acceleration within the new AMD Ryzen 7000 processors is because of the integrated RDNA 2 graphics. Also, this casts doubts on the need for AMD desktop processors with a 'G-suffix' at the end which was meant to distinguish processors with integrated graphics. Lastly, some of the low-power states and low-power management features introduced with the Ryzen 6000 mobile processors will be making their way into the I/O die of 'Zen 4' processors.
AMD AM5 Socket (1718 pin LGA)
AMD is finally ditching the pins and moving from PGA to LGA with the new AMD AM5 socket. Also, if it wasn't obvious enough, there's no way that older AM4 processors can be installed on the new AM5 socket. AM4 socket had 1331 pins and with AM5, that's going up to 1718 giving AMD a lot more signal, power and ground pins to play around with. However, AMD has stated that the cooler dimensions will not change with the introduction of AM5. So CPU coolers that were compatible with the AM4 socket will also be compatible with the AM5 socket. However, the native power support for processors on the AM5 socket has been upped to 170W so you will have to cross-check if your existing CPU cooler can dissipate the heat generated by the new AM5 processors.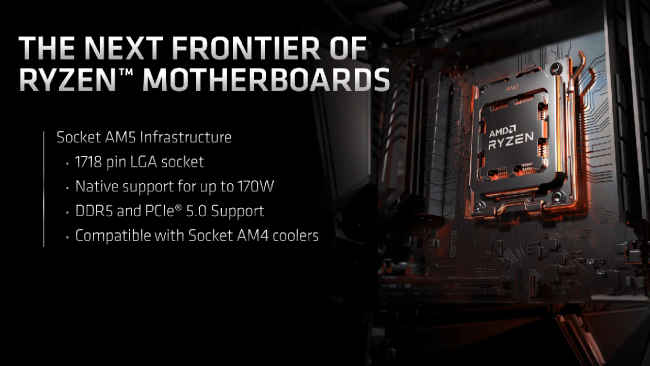 The new socket will be accompanied by the new X670 Extreme, X670 and B650 chipsets for enabling a wide assortment of motherboard designs. The top of the line chipset will enable 24 PCIe lanes for storage and graphics, feature up to 14 SuperSpeed USB Ports going up to 20 Gbps, support up to 4 HDMI 2.1 and DisplayPort 2 ports, and feature Wi-Fi 6E along with Bluetooth Low Energy 5.2.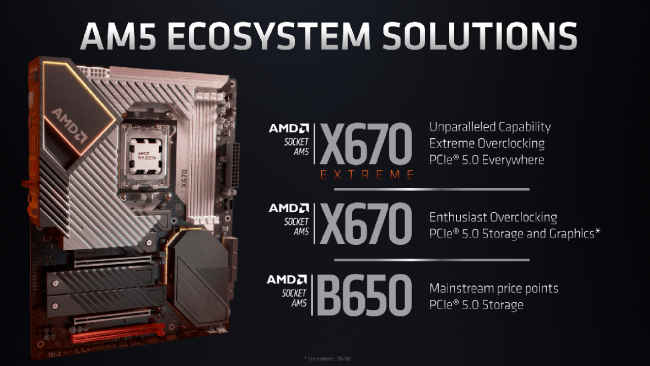 The X670 Extreme or X670E chipset will feature two PCIe Gen 5.0 x16 slots for graphics cards and one PCIe Gen 5.0 M.2 slot for storage devices. The X670 chipset will feature a similar set of x16 slots but PCIe 5.0 will be an option for the graphics cards but there will be one PCIe Gen 5.0 M.2 slot for storage. The B650 chipset is also the same but there is no option of PCIe Gen 5.0 for the graphics cards. Across the entire stack, you will get one PCIe Gen 5.0 storage option. It's quite a confusing segmentation of features. Hopefully, the lines between the three will become clearer towards launch.
PCIe Gen 5.0 M.2 NVMe Storage
There are no PCIe Gen 5.0 NVMe storage devices in the market since the drives are still under development but AMD did reveal that certain controllers such as those made by PHISON have already managed to get more than 60 per cent faster sequential read speeds on AMD AM5 platforms. Considering that current-gen PCIe 4.0 NVMe SSDs can hit 7000 MB/s easily, this would mean that PCIe 5.0 NVMe SSDs might hit 11200 MB/s. Combining such ridiculous speeds with the newly released storage API from Microsoft could result in some interesting developments.
AMD SmartAccess Storage (Microsoft DirectStorage API)
Speaking of interesting developments, Microsoft had recently released the production version of the DirectStorage API which is geared to making the most of the new generation of fast NVMe SSDs. Video games have been shipping with heavy texture files which enable game developers to build massive virtual worlds with life-like graphics. However, these heavy texture files also need a lot of bandwidth to be copied from the storage device to the graphics cards. Older storage mediums had low bandwidth and the controllers could only handle fewer I/O requests. That's not the case with current-gen NVMe SSDs. So game developers started optimising the way data is fetched from the storage medium by breaking them down into smaller pieces and requesting them only when needed. This leads to a lot more I/O requests. However, current-gen storage APIs are still not optimised to handle such high levels of I/O requests. That's where Microsoft's DirectStorage API comes into the picture. Microsoft is bringing DirectStorage API to Windows 11 but it requires that the storage device, as well as the overall platform, is compatible. AMD SmartAccess Storage is AMD's way of ensuring that.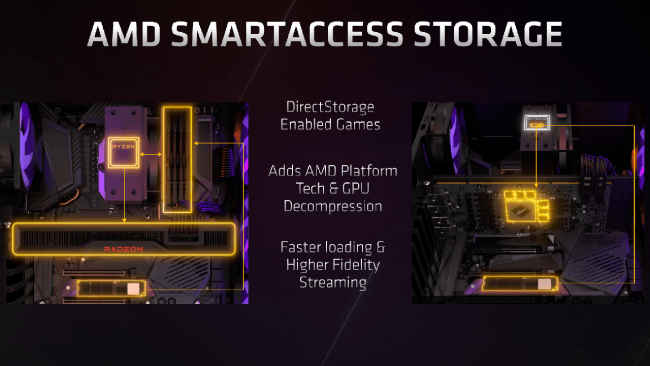 If you build a system with an AMD Ryzen processor, Radeon GPU and a fast NVMe storage device, then you can use SmartAccess Storage to reduce level load times in video games and have surface textures load way faster with reduced latency and also by reducing the workload on the processor.
AMD Ryzen 7000 series processor launch date
AMD has stated Fall 2022 as the launch window for the AMD Ryzen 7000 series desktop processors. This puts the launch date anywhere between September 23, 2022, to December 21, 2022. Details regarding the pricing, actual core counts, etc will be revealed closed to launch.