The Thermaltake Group showcased its latest products from the Chaser and Urban series of enthusiast gaming cabinets.
The new Chaser and Urban series of cabinets have been updated to incorporate USB 3.0 ports, better tool-less hard drive mounting rails, transparent side-panel windows and an improved cooling design using multiple fan openings.
The Urban Series which is known for silent cooling, has been updated to have fan controllers and better sound absorbing foam mats to minimise sound from the case.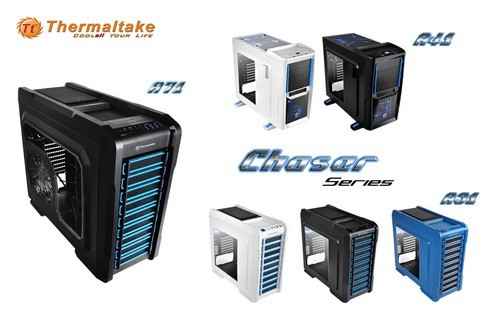 Chaser series of PC Cases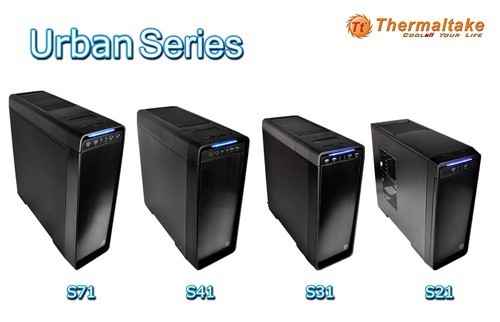 Urban series of Mid-Tower and Full-Tower PC Cases
Apart from PC Cabinets, Thermaltake also launched their new modular series of Power Supply Units called the Evo Blue 2.0 series which will feature 650, 750 and 850 watts 80 Plus Gold certified PSUs. These PSUs will also have a "turbo-charge" button which when pressed, provides an additional 100 watts boost when needed. Thermaltake Toughpower Grand 1050W Platinum was also unveiled intended for some of the more extreme systems.
Amongst other new launches was the NiC line of air based CPU Coolers with four different models called the C4, C5, F3 and F4 which have a 120mm VR fan to cool the heatsink and which also allow enough clearance for installing RAMs with bulky heatsinks that come in different sizes. Thermaltake also unveiled their all-in-one CPU Liquid cooling kit called the "Thermaltake Water series 3.0" to compete with other all-in-one liquid coolers such as Corsair's Hydro Series, Cooler Master's Seidon Series, NZXT's Kraken Series etc.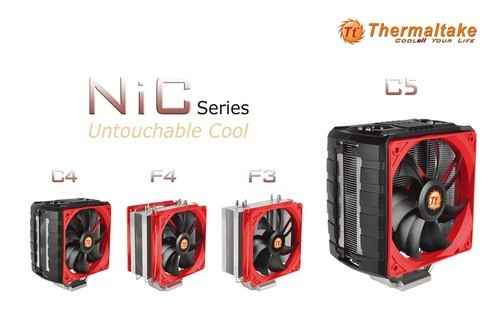 The NiC series of CPU Coolers
Notebook cooling was not left out, and in this domain, Thermaltake unveiled its rather funky GOrb II which is supposed to fit in your pocket and be handy Notebook cooler on the go.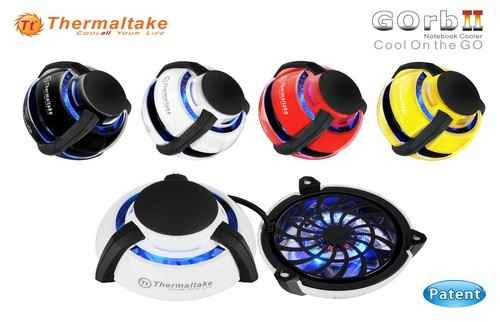 The GOrb II Notebook cooler
The gaming peripheral manufacturing wing of Thermaltake, which goes by the name Tt eSports, also saw some launches of its own including their pro-grade gaming Keyboards such as MEKA G1 and G Unit which have Cherry MX Mechanical keys along with coloured backlit illumination. Also the Tt eSports Level 10 mouse now comes in six colours – white, black, green, red, pink and yellow.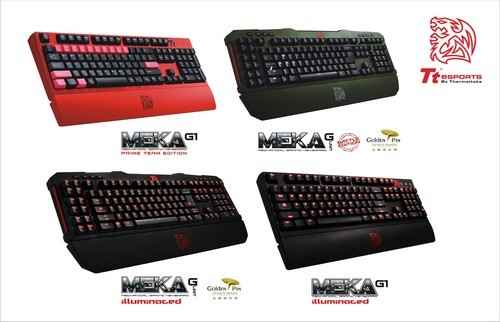 The Tt eSports Keyboard range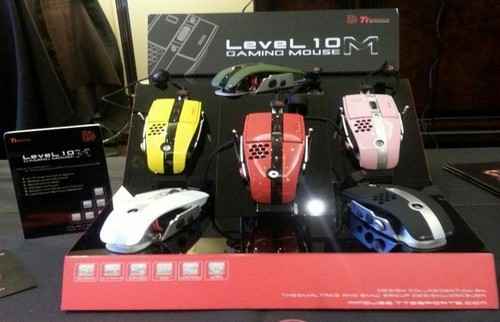 Different colours of the Tt eSports Level 10 Mouse
New pro-gaming headsets were also displayed at CES. Of these the CRONOS and the CHAO DRACCO are the over the ear variety while in the in-ear segment, the ISURUS DUB – a gaming grade cross-platform headset – was also unveiled.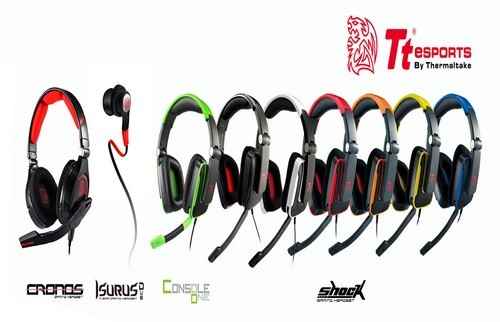 The new Tt eSports Headset range