Asus has launched its new ROG gaming mouse, Gladius, with two-level in-game DPI switch for Rs. 4,500
Asus's gaming division, Republic of Gamers, has launched its new gaming mouse, Gladius, with a two-level in-game DPI switch, two ergonomic slide-to-press side switches, and a 6400 dots per inch (DPI) optical sensor that tracks up to 200 inches per second and 50g acceleration. This highly-advanced mouse has been engineered for right-handed gamers who demand precision, ergonomic comfort, and a competitive advantage in first-person shooter (FPS) games. The mouse is priced at Rs. 4,500 and will be available from December via all resellers in India. The mouse will also come with a 2-year warranty.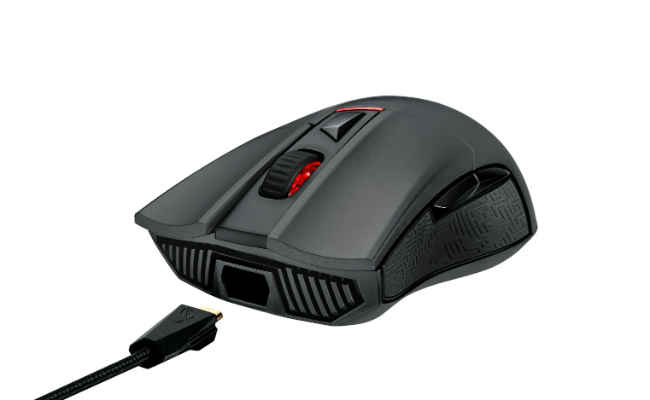 Designed with input from the world's top gamers
ROG sought input from the world's top pro gamers during the initial design stages to get the right look and feel for ROG Gladius. Measuring 126 x 67 x 45mm and weighing just 116g, Gladius has an ergonomically-designed chassis that perfectly fits all mouse grip types ranging from the palm, claw, or fingertips; while tactile rubber side panels adorned with intricate Mayan-inspired lines to ensure a secure grip in the heat of battle. Gladius has a steel-grey finish with a special sweat-resistant coating that maintains a comfortable feel even during marathon gaming sessions.
Six programmable buttons are provided in total, with left and right buttons that are independent of the mouse chassis to ensure exceptional responsiveness. There are also two programmable slide-to-press side switches that can be triggered by sliding the thumb forward; along with a scroll wheel with an Alps encoder provides a positive feel.
Unbeatable gaming performance
ROG Gladius has an advanced 6400DPI optical sensor capable of tracking up to 200 inches per second and up to 50g acceleration at lift-off distances of 1.5mm. The DPI clutch enables instant switching between two sensitivity levels — a standard mode tuned at 1600DPI for everyday gameplay, and an extra-low speed mode at 400DPI for better aim and more accurate sniping. Also, with the latest ROG Armoury Driver v1.08 and upwards, you can now enable the 2,000Hz USB polling rate which updates the cursor position every half-millisecond! This is the first and currently the only gaming mouse to offer this option.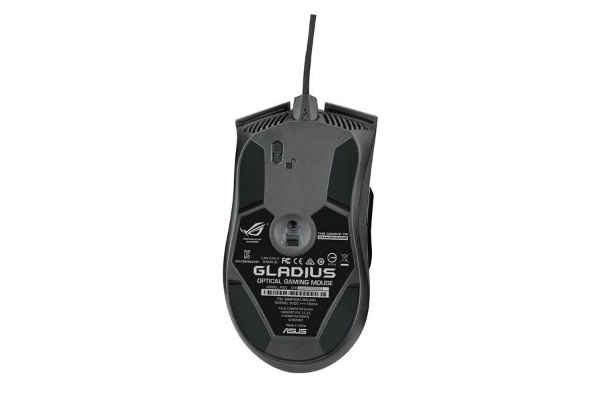 Gladius makes use of high-quality Omron mouse switches that are good for at least 20 million clicks; the ROG-exclusive easy-swap socket makes switch replacement simple, and two Japanese-made additional switches are also included for gamers wanting to personalize the click response for a different feel.
To enable gamers to save their profiles, Gladius has built-in flash memory. The innovative Armoury software lets users create, customize and store an unlimited number of profiles on their PCs or gaming notebooks. The software includes a calibration tool that analyzes and learns surface characteristics to hone sensor accuracy for pixel-perfect precision and better in-game responsiveness for that added advantage.
Built for home or LAN parties
ROG Gladius comes with a 2-meter braided USB cable for desktop use and a regular 1-meter USB travel cable for use at LAN parties or internet cafes. A one-push release button detaches the cable from Gladius with a simple click. The micro USB port sits a few millimeters above the table surface and is angled at an incline to prevent the connector from dragging on the desk. Every Gladius mouse comes with a ROG carry pouch, two ROG logo stickers, and four smooth-glide mouse feet.
SPECIFICATIONS
ROG Gladius
| | |
| --- | --- |
| Connectivity | Wired USB 2.0 |
| Tracking Resolution | 6400dpi optical sensor |
| Tracking Speed | 200ips |
| Tracking Acceleration | 50g |
| Responsiveness | 1000Hz polling rate |
| Switch | Omron D2FC-F-7N (20M) |
| | Extra Japanese-made Omron D2F-01F included |
| Cable | 2-meter braided USB cable |
| | Extra 1-meter regular rubber USB cable |
| Operating System | Windows 8.1, Windows 8, Windows 7, Mac OS X (10.7-10.9) |
| Dimensions | 126 x 67 x 45mm |
| Weight | 116g (without cable) |
| Package Contents | 1 x 2-meter braided USB cable |
| | 1 x 1-meter regular rubber USB cable |
| | 2 x Japanese-made Omron switches |
| | 1 x ROG pouch |
| | 2 x ROG logo stickers |
| | 4 x mouse feet |