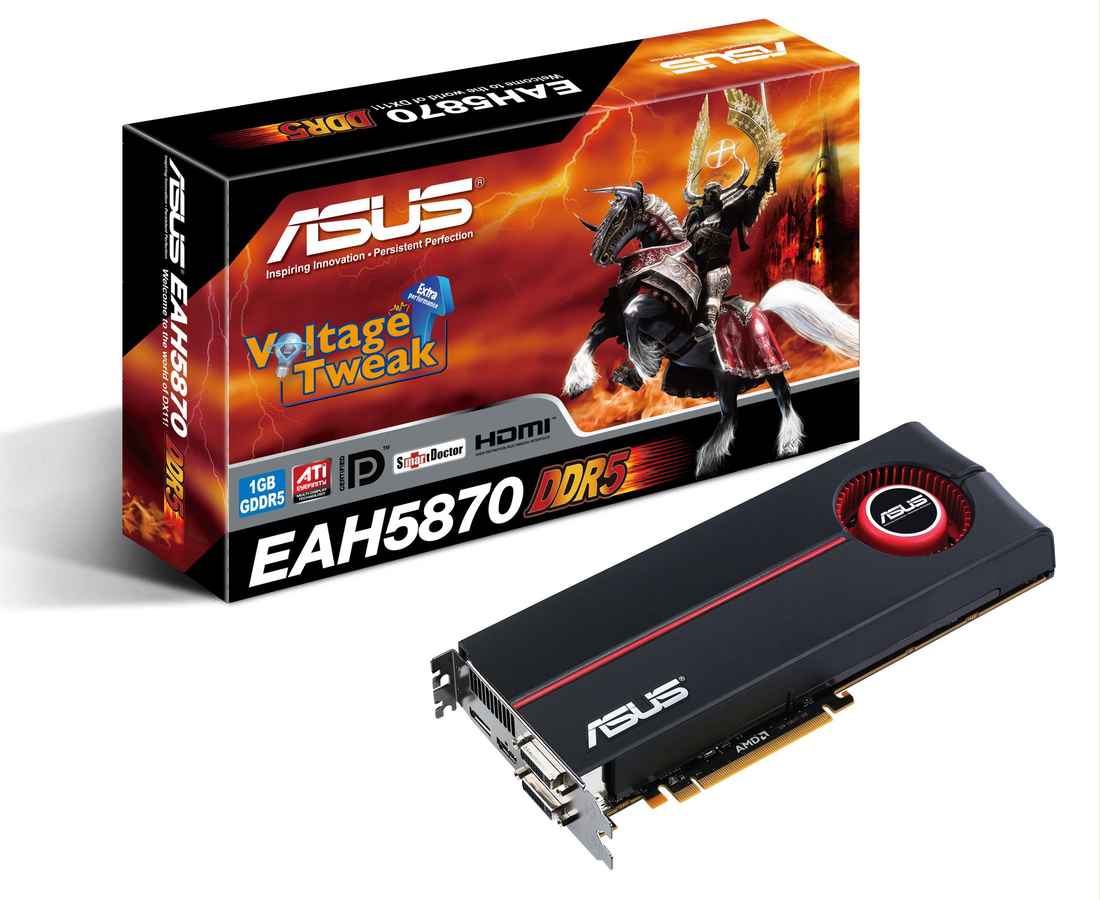 Gamers, rejoice! ASUS has just launched the new DirectX 11-enabled EAH5870 and EAH5850 graphics cards in India! Readers will remember that the HD5850 was touted as being the best value-for-money deal around in our recent
review roundup
.
The first in the world to utilise Voltage Tweak technology, these graphics cards enable users to boost GPU voltages via the SmartDoctor application to enjoy up to a 38% improvement in performance. Both graphics cards support Microsoft DirectX 11 and Windows 7 to provide users with the most intense gaming experience.
The latest 40nm process and GDDR5 memory technologies are also utilized to deliver faster processing times and general system performance. Users can even run up to three displays from a single graphics card, thanks to the native DisplayPort and Eyefinity technology.
The ASUS EAH5800 Series comes specially bundled with DiRT 2 – by far the most anticipated DirectX 11 game – pushing the boundaries of immersive gaming with true-to-life visual realism and effects.
"The ASUS 5800 Series graphics cards are our latest offering on the new ATI chipset that not only utilize the full potential of the new chipset but also offer various unique innovations to increase its usability. Aimed at gamers and enthusiasts, thoughtful features like Voltage Tweak and SmartDoctor will be appreciated by all users looking for advanced overclocking and pushing their system to its peak performance," said Mr. Vinay Shetty - Country Head - Component Products, ASUS (India).
Performance Boosts with Voltage Tweak and Extreme Overclocking with SmartDoctor
The Voltage Tweak technology enables users to raise GPU voltages from 1.15V to 1.35V and from 1.088V to 1.4V respectively, boosting GPU and memory clock performance from 850 / 725 MHz to 1035 / 1050 MHz and from 4800 / 4000 MHz to 5200 / 5200 MHz respectively. Such extreme performance upgrades raise the EAH5870 and EAH5850's 3DMark Vantage Extreme Preset score from 8,087 to 9,252 and from 6501 to 8987 – an unbelievable 17% and 38% improvement compared to other reference designed boards.
Gamers and overclockers can also benefit from ASUS SmartDoctor, the world's first overclocking utility that allows the tweaking of GPU voltages on the EAH5800 Series graphics cards. ASUS SmartDoctor enables users to boost both voltages and overall performance with just a few clicks – without the hassle of flashing the BIOS or running the risk of damaging the graphics card.
Enhanced Processor and Memory Performance
The ASUS EAH5800 Series graphics cards boast 40nm process technology to provide better system performance while using less power, thanks to highly efficient transistors. With advanced GDDR5 memory technology – enabling up to twice the bandwidth per pin as compared to GDDR3 memory – users can now experience the speed, responsiveness and performance of ultra-high bandwidth for processor-intensive multitasking and gaming.
Extend the View across Three Displays with Eyefinity Technology and Native DisplayPort
The ASUS EAH5800 Series graphics cards feature Eyefinity technology and native DisplayPort, allowing users to expand the field of view across up to three displays. This allows for more detail than ever before with innovative "wrap around" capabilities that deliver an incredibly intense gaming experience, enhancing the feeling of being in the game.
Specification Table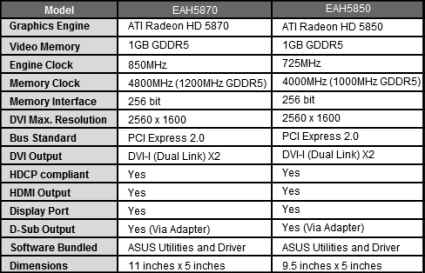 Price and Availability
Covered with a three-year warranty, the ASUS EAH5870 retails at Rs. 31,900, while the ASUS EAH5850 will set you back by Rs. 21,250. Both the prices are excluding taxes, and the packages come with a copy of Colin McRae: Dirt 2.