Top reasons why you must attend #KubeSummit 2021
Get a detailed walk through on scheduling & automating deployment & scaling of #Containerized Apps. Register for #KubeSummit 2021 today. March 19-20
Click here to know more
Advertisements
AMD has announced that the second generation of its Ryzen desktop processors. The lineup consists of a total of four processors, Two under the Ryzen 7 series and two under the Ryzen 5 series. The Ryzen 7 processors feature 8-cores and 16-threads, while the Ryzen 5 processors features 6-cores and 12-threads.
"Second generation Ryzen desktop processors take everything that made the original Ryzen so groundbreaking and makes it better – great performance combined with advanced technology to deliver an amazing experience for the most demanding users," said Jim Anderson, senior vice president and general manager, Computing and Graphics Group, AMD in a press statement.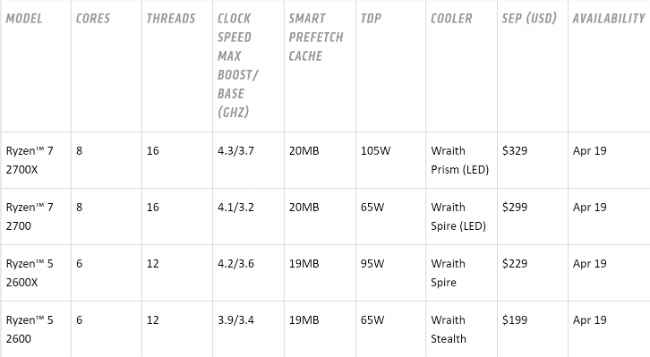 The company also notes that the entire lineup of 2nd gen Ryzen desktop processors will include an AMD Wraith cooler inside the retail box. Further, the top of the line, Ryzen 7 2700X CPU PIB includes the new Wraith Prism cooler. The company claims that the new Wraith Prism cooler offers improved thermal performance over the Wraith Max, a more compatible fan profile and enhanced lighting capabilities with per-RGB controls
Further, the new processors are supported by the new AMD X470 chipset and feature the Socket AM4. Motherboards with the AMD X470 chipset will a launch alongside the new 2nd gen processor and will be available from ASRock, ASUS, Gigabyte, and MSI.
The ​Ryzen 7 2700X and Ryzen 7 2700 are priced at $329 (approx Rs 21,400) and $299 (approx Rs 19,500) respectively. The Ryzen 5 2600X and Ryzen 5 2600 are priced at $229 (approx Rs 15,000) and $199 (approx Rs 13,000). AMD says that online retailers will start taking pre-orders for the processors from April 13. The processors are expected to be available from April 19.