AMD CEO Lisa Su just showcased the upcoming Polaris based Radeon RX series of graphics cards at E3. By showcase, we mean a little teaser before the official launch later this month. AMD had revealed information regarding the $199 Radeon RX 480 at Computex 2016 a few days ago. And today we saw the Radeon RX 470 and the Radeon RX 460, both of which are poised to change the landscape of e-sports with really affordable high-performance solutions.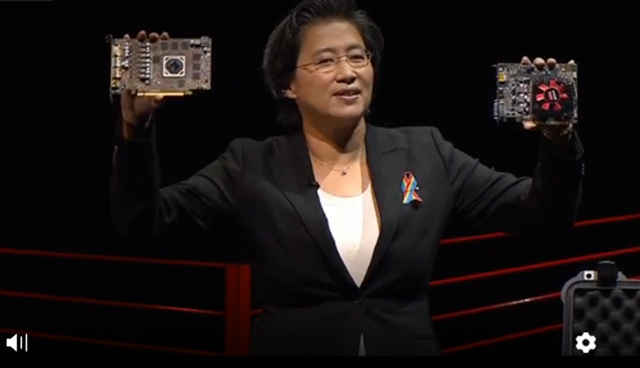 The Radeon Technology Group aims to democratize VR with the RX series. While each GPU is powerful enough to run VR applications, the RX 480 prowess in this matter was demonstrated at Computex 2016 with the Oculus Rift and HTC Vive. The Radeon RX 470 is being marketed as capable of delivering power-efficient HD gaming and the Radeon RX 460, as a cool and efficient solution for e-sports gaming.
The Radeon RX series GPUs are designed to transform gaming across all platforms. We've already spoken about the VR democratization part. What remains to be talked about is how these GPUs are reportedly designed to work with close-to-the-metal APIs on the PC platform. These very APIs are similar to those on consoles which makes the developers job easier as they can spend more time on development and less on troubleshooting / debugging. Lastly, the RX series of GPUs are based on the 14nm FinFET technology so they're inherently thinner, thus, resulting in thinner GPUs (low z-height) which are optimal for thin and light notebooks.
Raja Koduri, Senior Vice-President and Chief Architect, Radeon Technologies Group, AMD had this to say, "Gamers and consumers today are being left behind. Today only the top 16 percent of PC gamers are purchasing GPUs that deliver premium VR and Gaming experiences.2 Hundreds of millions of gamers have been relegated to using outdated technology. Notebook gamers are often forced to compromise. And tens of millions more can only read about incredible PC VR experiences that they can't enjoy for themselves. That all changes with the Radeon™ RX Series, placing compelling and advanced high-end gaming and VR technologies within reach of everyone."
AMD's Polaris GPU microarchitecture brings to fore some interesting set of technologies thanks to which it offers true asynchronous compute. This in turn leads to improved performance with games that make use of DirectX 12 and Vulkan. Also, next generation display technologies like HDMI 2.0b, DisplayPort 1.4, high-speed H.265 encode / decode capabilities, streaming and recording 10-bit 60 FPS video and lastly, support for next-gen HDR and high-refresh-rate displays.
AMD also demostrated Doom running on "Summit Ridge" CPUs at E3 2016. Check out the video below.