Highlight:
AMD is expected to announce Ryzen 3000 series of processors at CES 2019
A Russian online retailer has listed five processors that AMD is expected to announce
The AMD Ryzen 9 3800X, Ryzen 7 3700X and 3700, Ryzen 5 3600X and 3600 processors have been spotted online

AMD is expected to make announcements regarding its Ryzen 3000 series processors based on Zen 2 core architecture at the upcoming Consumer Electronics Show, 2019. Ahead of the event, Wccf tech reports that a Russian online retailer, E-Katalog has listed five new third Generation Ryzen processors on its platform. While there's no confirmation of how much the listing might hold true, it does gives an idea into what AMD might have in store for us. The Russian retailer has listed the AMD Ryzen 9 3800X, AMD Ryzen 7 3700X and 3700, along with the AMD Ryzen 5 3600X and 3600 processors.
Starting off with the AMD Ryzen 9 3800X, it is listed with twice the cores of the company's current flagship. The new processor could be clocked at a base frequency of 3.9GHz, with boost frequency touching 4.7 GHz for single-core. It might come equipped with 16 cores and feature 32 threads, with a reported TDP of 125W. This is slightly higher than the 95W TDP of Ryzen 7 2700X but it's expected with the doubled number of cores.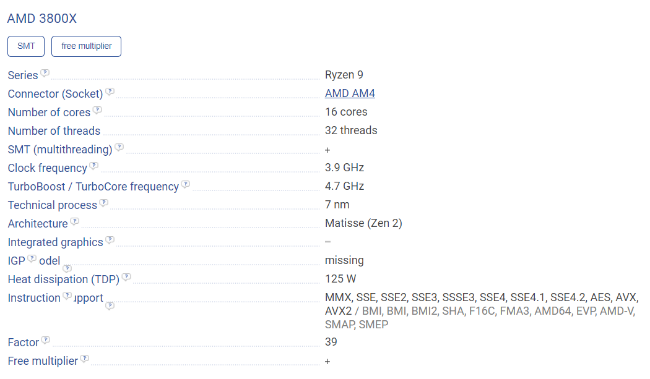 AMD could be planning to launch two processors in its Ryzen 7 3000 lineup, the Ryzen 7 3700X and the 3700. As per the report, the two processors might feature the same number of cores and thread counts at 12 and 24 respectively. In comparison, the current Ryzen 7 2700X features 4 cores and 8 threads. The 3700X could be clocked at 4.2GHz and might touch up to 5 GHz when boosted, while the Ryzen 7 3700 could be clocked at 3.8 GHz, with speeds touching up to 4.6 GHz. The 3700X and 3700 could feature TDP of 105W and 95W respectively.
Finally, the AMD Ryzen 5 series of processors could come with 8 cores and 16 threads. The 3600X could have a base clock of 4GHz with a 4.8GHz boost clock speed and a TDP of 95W. On the other hand, the 3600 might be launched running on 3.6GHz clock speed, which could touch up to 4.4GHz on boost, with a TDP of 65W. Alongside the Ryzen 3000 series of processors, the company is also rumoured to launch processors with Vega Graphics (APUs), along with a Radeon graphics card.
Related Read: AMD announces availability for Ryzen 5 2500X and AMD Ryzen 3 2300X for OEMs