AMD has outed a new Radeon RX 6600 XT for the mid-range gaming market. The RX 6600 XT targets 1080p gaming and promises 9.6 teraflops performance. AMD is confident that it will outshine the Nvidia's RTX 3060 12GB at 1080p that was launched at $329 but sells for a lot more.
AMD Radeon RX 6600 XT Specifications
AMD Radeon RX 6600 XT is based on RDNA 2 architecture and like all RDNA 2 graphics cards, it has a pretty fast game clock of 2,359MHz. The Infinity Cache is 32MB which is significantly less than 96MB and 128MB that we have on other RX 6000-series graphics cards. AMD assures that the infinity cache will prove adequate for 1080p gaming.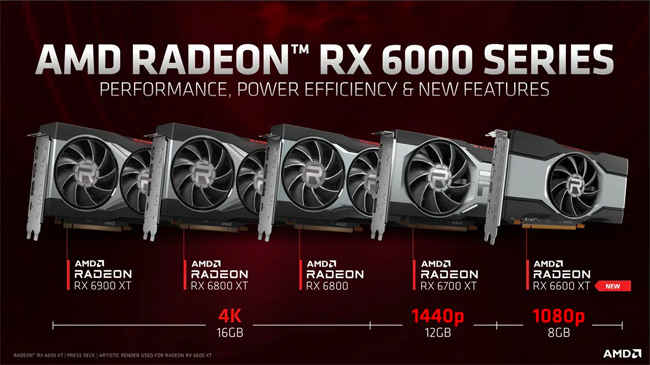 It features or 2048 streaming processors or 32 Compute Units (CUs) which is just eight short of RX 6700 XT that sells for $479 and is meant for 1440p gaming. AMD also adds 32 Ray Accelerators that should be good enough for up to medium ray tracing settings in compatible games as of today. Going by the ray tracing performance of RX 6700 XT, we expect the RX 6600 XT to fall behind Nvidia rivals in this regard.
The 6600 XT also has 8GB of onboard GDDR6 memory. PCIe bus width is limited to Gen4 X8 as the graphics card hasn't been designed to handle high-end workloads. The TDP starts out at 160W. Other standard AMD features included are Smart Memory Access, Radeon Boost, Radeon Anti-Lag, and FidelityFX Super Resolution.
Also Check: What are AMD Advantage Gaming Laptops and how can they help you get better value for money
AMD expects the performance to fall somewhere between RTX 3060 and RTX 3060 Ti. According to AMD's testing on three Nvidia promoted games, 3 AMD promoted games, and agnostic titles, the RX 6600 XT outperformed Nvidia RTX 3060 12GB by 15 per cent.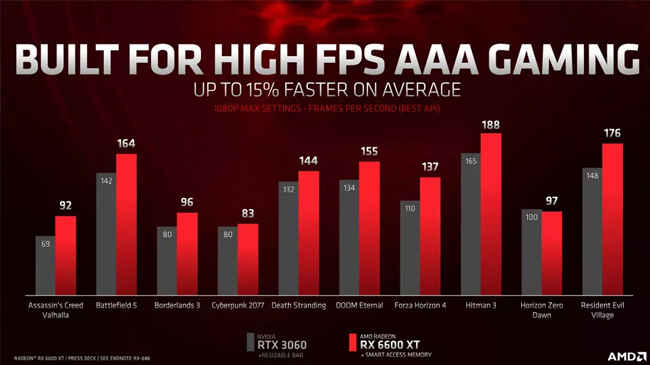 These titles include Battlefield 5, Cyberpunk 2077, Death Stranding, Assassin's Creed Valhalla, Borderlands 3, and Resident Evil Village, Doom Eternal, Forza Horizon 4, Hitman 3, and Horizon Zero Dawn.
It must be mentioned that ray tracing, DLSS, or FidelityFX Super Resolution were not enabled for these tests.
AMD Radeon RX 6600 XT Price and Availability
AMD Radeon RX 6600 XT will be out on August 11, 2021, for a suggested starting price of $379 and will be available for desktops and laptops. AMD assures that people will be able to buy it at the launch price. There will of course be pricier custom options from AMD's AIB partners as well.
For more technology news, product reviews, sci-tech features and updates, keep reading Digit.in or head to our Google News page.