AMD has been working on a new a GPU lineup, for some time now. These GPUs are expected to stand alongside its new Ryzen processors. The company named the lineup 'Vega' at GDC earlier this year, but since then, AMD has been awfully quiet about the new GPUs. Now though, a leaked 3DMark benchmark listing gives us a glimpse at what we can expect. While the listing names the GPU as Generic VGA(1x), speculation suggests that this might be one of the Vega GPUs.
As per the listing, the GPU scores 5950 points, which puts it at par with the Galax GTX 1070 OC GPU by NVIDIA. While, this means that the GPU is still slower than the GTX 1080, 1080 Ti and the Titan cards, AMD has not been able to offer high-end graphic card solutions that could match up to NVIDIA's Pascal lineup. This could help it do just that, at least to some degree.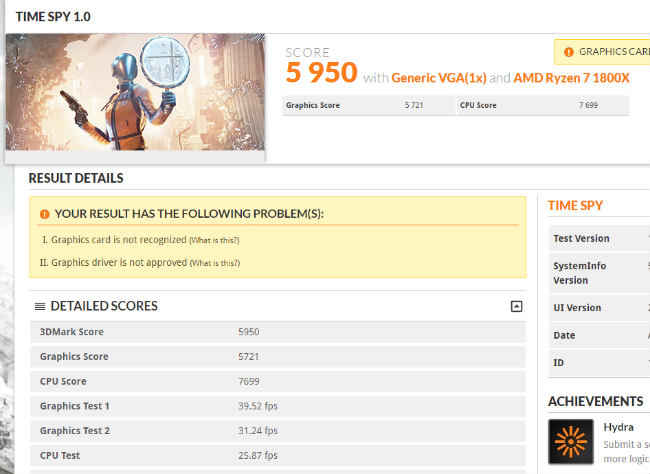 The unidentified AMD GPU used in the listing features a core clock speed of 1200MHz and 8GB of vRAM, which is likely to be HBM2 based. Moreover, since AMD might be using a pre-launch version of the driver, it is safe to assume that post-launch drivers may offer higher performance.
We should also consider that this might not be the top of the line Vega GPU in the first place, it could just be a middle tier card from the lineup. Previously, AMD's own demo showed Vega GPU hitting 70fps quite easily on DOOM in 4K using Vulkan. By comparison, NVIDIA's latest GTX 1080Ti can go beyond 100 fps using Vulkan.
So, a lot of questions about the GPU remain unanswered. Howwever, it should offer some performance improvement over AMDs current range of Polaris based GPUs.
;
For more technology news, product reviews, sci-tech features and updates, keep reading Digit.in or head to our Google News page.