AMD has unveiled the AMD Radeon R7 and R9 series of graphics cards, specially designed for next gen gaming titles. The Radeon R9 series has the R9 290X, R9 290, R9 280X, R9 270X, while Radeon R7 series includes R7 260X and R7 250 graphics cards.
These graphics cards cater to a gaming era defined by UltraHD displays, new game engines and a new breed of gamers who will not compromise in terms of immersive entertainment experience. AMD has also introduced 'Mantle' and 'TrueAudio technology', these latest technological advancements redifne the GPU, allowing both gamers as well game developers with unmatched audio and performance enhancements.
"The AMD Radeon R9 and R7 Series graphics cards are new GPUs for a new era in gaming," said Matt Skynner, corporate vice president and general manager, Graphics Business Unit, AMD. "This era is shaped by ultra-resolution gaming and an exciting new generation of highly-anticipated games like 'Battlefield™ 4.' But it's also an era shaped in a very powerful way by our own Unified Gaming Strategy; we've teamed up with the world's top game developers to establish a comprehensive portfolio of games that you can maximize to their full potential only with AMD Radeon™ graphics."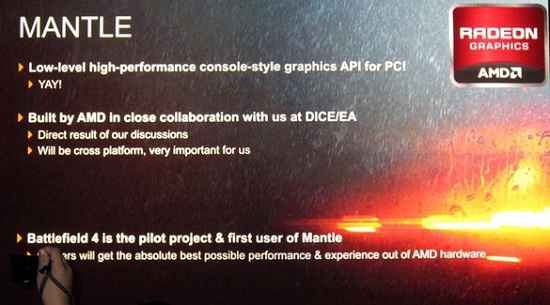 With the introduction of Mantle, games like Battlefield 4 will be empowered with the ability to speak the native language of the Graphics Core Next (GCN) architecture, which eventually provides a deeper level of hardware optimization.
AMD TrueAudio Technology comes bundled with these next gen graphics cards enabling more realistic environemental dynamics, rich and sharper sounds for simulating real-world sound.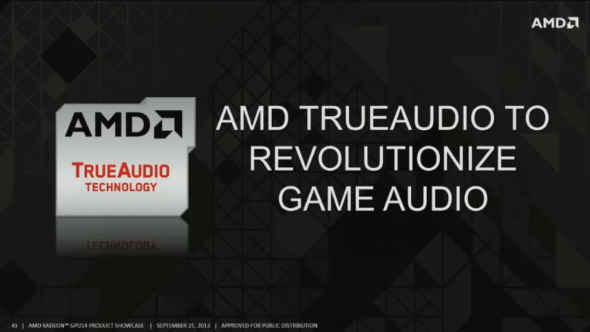 The Radeon R9 and R7 series also feature the AMD Multi-Display Technology that supports Ultra resolution gaming. They are made for gaming on UltraHD (3840x2160) displays, including support for non-tiled 2160p60 displays with a future AMD Catalyst™ driver release.
For more information and support, click on the links below: