A random image of a computer CPU, reported to be made by YouTube personality Gavin Free, was seen having a graphics card with "TITAN" written on it.
An image of a computer CPU has been making rounds on the internet for having an unspecified NVIDIA Titan RTX graphics card. This could be a hint that NVIDIA is working on a new Titan graphics card based on the Turing GPU architecture. A report on wccftech says that the PC in which the card is seen is built by Gavin Free who features in The Slow Mo Guys on YouTube. Given the fact that the image was clicked by a YouTube personality, it is possible that this card has been designed keeping in mind the gamers as well as the content creators.
The report also says that the card is being teased by a lot of YouTubers and key personalities on Twitter and may come with a price tag of $3000, which is same as the Titan V card. NVIDIA's move to send card to Gavin is not a surprising one because he is a top-tier YouTube creator and could have got this card for testing. Previously, NVIDIA has sent out unreleased Quadro graphics cards to content creators. In 2015, EDM composer Deadmau5 had posted images of the Quadro M6000 graphics card on his Instagram handle.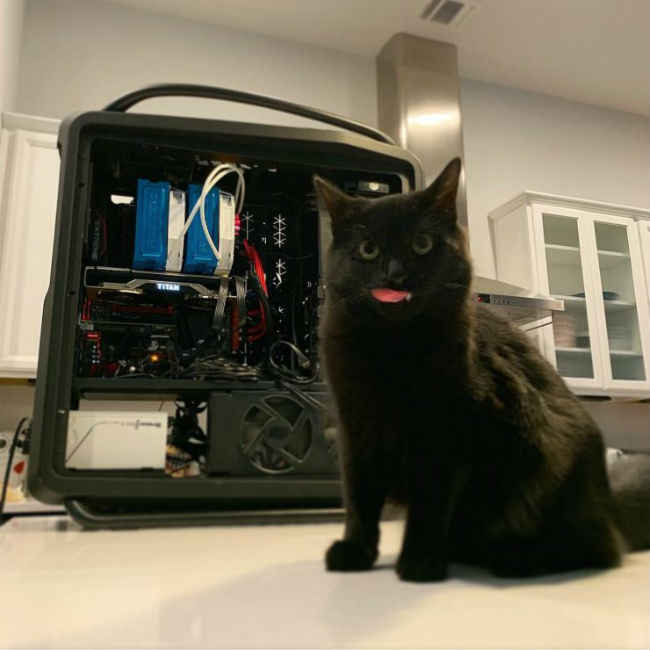 Even the previous Titan class graphics card, the Titan V, was pictured and leaked within a PC by an intern at NVIDIA, the report said. The Titan V was leaked in May 2017 and was launched in December 2017. Now coming to the leaked image of the unannounced graphic card, it is seen using a similar cooler shroud as the GeForce RTX 20 series graphics cards. There is also a gold coloured shroud which is similar in colour that we have seen in the Titan V shroud. The card uses two eight-pin power connectors and the TITAN logo on the side has blue LEDs instead of the Green that are featured on the GeForce RTX 20 series cards.
There is still no surety whether this card is an unreleased NVIDIA GeForce RTX graphics card and we may have to take this with a pinch of salt. It could be a modded shroud but given that the image was taken by a well-known Youtube creator, and the state of his PC, a modded card doesn't seem like the case. We'll have to wait for some more leaks or official announcements from the company to get a surety on the card.