Nvidia's RTX series of GPUs bring some new tricks to the gaming scene, with Ray-Tracing being the one most talked about. However, the downside of having RTX enabled is the hit to the frame rates. In order to offset this reduction in performance, Nvidia had also announced a second new feature called DLSS or Deep Learning Super Sampling, which utilises the Tensor cores onboard the RTX cards and employs AI to predict the next set of frames. The goal is to increase the overall frame rate, with Nvidia claiming that with DLSS enabled games, users can expect up to twice the performance improvement in terms of frame rates. Popular PC benchmarking suite 3DMark has now updated its Port Royal benchmark to measure DLSS performance today, with Nvidia releasing new drivers that brings improved compatibility to the system.
Since we have an Nvidia RTX 2080Ti in-house, we ran the benchmark on our test-rig to see just how much of a performance difference one could expect. The system specs are as follows:
CPU - Intel Core i9-9900K
GPU - NVIDIA GeForce RTX 2080 Ti
RAM – 32GB Corsair Vengeance Pro (8x4)
Motherboard - Asus ROG MAXIMUS XI HERO
Storage – 1TB WD Black NVMe
Monitor – Asus ROG Swift PG27VQ (1440p, 144Hz with Gsync)
The Port Royal benchmark for testing DLSS performance is a 2-run process. First, the benchmark runs without DLSS enabled and then once with DLSS on. In the first run, Port Royal reported a frame-rate of 36.71fps while with DLSS on, the benchmark recorded the frame rate at 52.06fps. This was for the benchmark running at 2560x1440. On the Nvidia RTX 2080Ti, that is a roughly 41 percent improvement in frame rates. This is in line with the numbers reported on Nvidia's blog post. Where the 2080Ti shows an improvement of about 40 percent (the lowest improvement amount) while the Nvidia RTX 2060 is expected to have a performance improvement of up to 50 percent. DLSS isn't just about improved frame-rates, but also about crisper graphics in general. While this should be considered anecdotal, we watched the two Port Royal runs be executed, and the visuals on the second run (with DLSS enabled) were visibly crisper, especially when it comes to the peripheral aspects such as the edges of buildings that are not in the center of the frame or graphical assets that are completely towards the edges.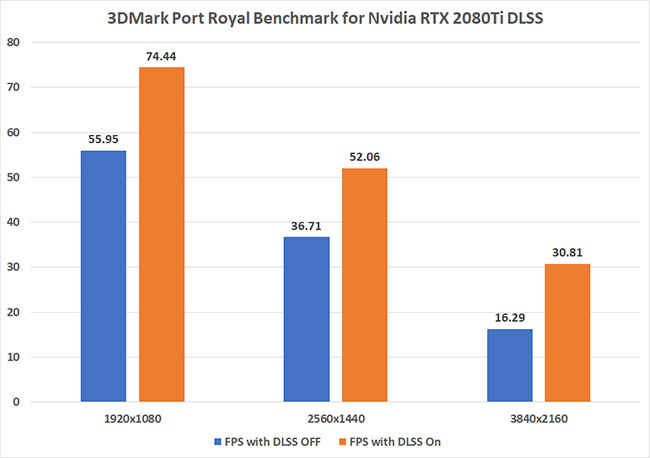 3DMark's Port Royal reports impressive performance boost with DLSS enabled
Currently, there aren't a lot of games in the market that support DLSS. The update has to be pushed out by game developers and it is their choice whether to support the feature or not. As of now, Battlefield V that supports Ray Tracing does not support DLSS. Final Fantasy XV supports the feature, with Nvidia having announced 9 new developers who would bring the feature to their games. This includes Hellblade: Senua's Sacrifice by Ninja Theory and even Darksiders III by THQ Nordic. Games like ARK Survival, Shadow of the Tomb Raider and even PlayerUnknown's Battlegrounds (PUBG) support DLSS.

Games that will support DLSS (Image courtesy: Nvidia)
As time passes, we can only hope that more game developers will support DLSS, given that the feature is able to squeeze up to 50 percent more performance on 1440p resolution.
Related Read: Nvidia RTX 2060 Review