Want to modernise your banking loan application?
Build an application that analyses credit risk with #IBMCloud Pak for Data on #RedHat #OpenShift
Click here to know more
Advertisements
Key Highlights:
Samsung will unveil three new computer monitors at this year's CES
The first is a slim monitor with a novel space-saving mounting design
The second is a 49-inch ultra-wide gaming monitor
The third is a curved display with a slim frame
Samsung has a new set of computer monitors to showcase at this year's CES in Las Vegas. To be more specific, the Korean electronics manufacturer has three new large monitors to offer to its consumers this year. The first is the Samsung UR59C, a 32-inch curved 4K UHD monitor. The second is the Samsung CRG9, an ultra-wide gaming monitor with Dual QHD resolution. The third, and the most interesting one, is the Space Monitor. Available in 27-inch and 32-inch sizes, the Space Monitor aims to create more space on the user's desk by sticking to the edge of the table.
At first, the Space Monitor might sound like something designed specifically for use on the International Space Station. But its name really refers to the physical space around the user's workstation. While most monitors come with an oval or rectangular base that occupies space on the desktop, Samsung's novel Space Monitor comes with an arm stand that clamps to the edge of the desk. The height-adjustable arm also houses the power and input cables to minimise clutter. The 27-inch model offers QHD resolution, while the 32-inch, 4K UHD. The Space Monitor is currently available for pre-order on Samsung's website at a starting price of $499.99 (Rs 34,770 approx).
Acting as an upgrade to the Samsung CHG90 from last year, the Samsung CRG9 spans 49 inches diagonally. It has an aspect ratio of 32:9 and a max resolution of 5120 × 1440 (Dual QHD). The peak brightness of the HDR-enabled monitor is 1,000 nits. Sold as a gaming monitor, the Samsung CRG9 offers a refresh rate of 120Hz and a response time of 4ms. It has support for AMD Radeon FreeSync 2 HDR to minimise stutter, screen tearing, and input latency. According to Samsung, the CRG9 is equivalent to two 27-inch QHD 16:9 monitors placed side-by-side.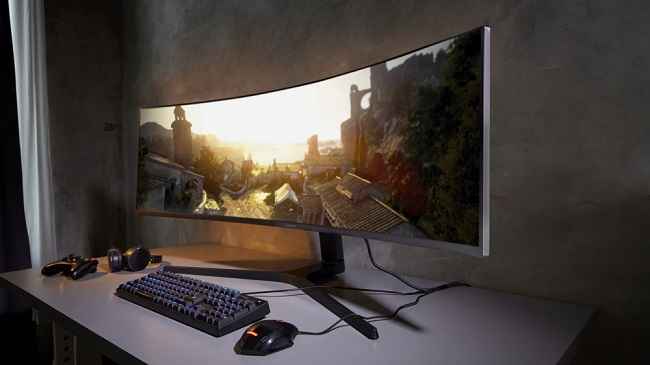 The last of the three monitors is somewhat more mainstream. The Samsung UR59C has a curved screen that spans 32 inches diagonally. According to the company, it has a contrast ratio of 2,500:1 and a resolution of 3840 × 2160 (4K UHD). The rear casing is, interestingly, fabric-textured and the depth of the monitor is 6.7 millimetres. The Samsung UR59C is available in Dark Blue Gray. All three models are expected to make an appearance at this year's CES.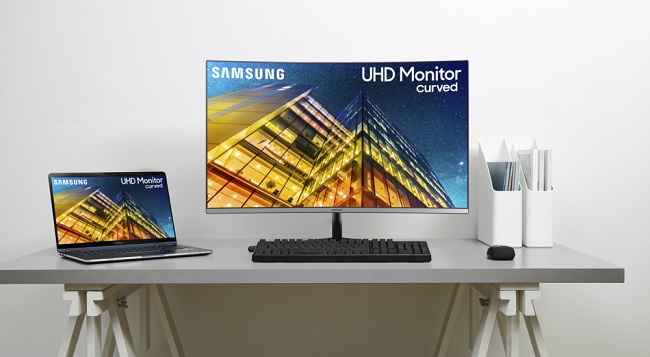 Related Read:
10 Crazy gadgets to watch out for at CES 2019
CES 2019: What to expect from Sony, Samsung, LG, Panasonic, Nvidia, Dell and others