Highlights:
Snapdragon 855 powered Oppo Reno to come with liquid cooling.
Some images of the phone have also leaked online, showcasing a unique pop-up front camera design.
The handset will be announced on April 10.

Oppo has already announced that it will soon introduce new smartphones in China under its latest series called Reno. The new lineup is set to be announced on April 10 and it will join the company's existing lineup of F-series and R-series smartphones. Now, new information about the Oppo Reno has surfaced in the form of leaks and official confirmations. Firts off, Oppo's VP, Brian Shen has confirmed that there will be a different version of the Oppo Reno smartphone. The high-end version of the handset will come equipped with a copper tube and also support liquid cooling. Secondly some leaked images of the phone's protective case reveal a rather peculiar front camera design on the phone.
Let's get into some details here. Starting off with the official announcement, Shen has confirmed that the Oppo Reno will be made available in two variants. One of these models will be equipped with a copper tube and support liquid cooling, which is most likely the Snapdragon 855-powered variant. While the other version is said to use "heat-conducting gel and graphite sheet" for heat dissipation. The latter model of the phone is speculated to launch running on the Snapdragon 710 SoC. The Snapdragon 855 powered version Oppo Reno is also confirmed to sport 10x zoom capabilities and pack a 4065mAh battery.
Coming to the second report of the handset's leaked images posted on Slashleaks, the phone's front camera is seen popping up in such a manner that it creates a ramp on the top edge of the handset. Both images and a of the new pop-up mechanism on the Oppo Reno have leaked on Slashleaks. The Oppo Reno has been leaked once previously in a hands-on video. Comparing the two leaks, the design of the phone's front panel is in line with the video but we can't be too sure of the unique pop-up camera mechanism since it was not shown off in the phone's previously leaked video. However, tipster Star Universe, who posted the Oppo Reno hands-on video, also confirmed that there are two versions of Oppo Reno.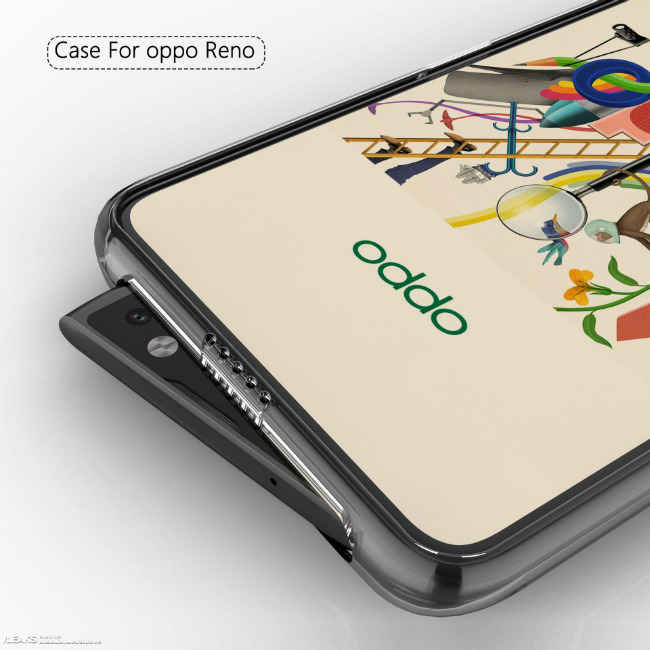 The newly leaked images of the phone also hint at a vertically aligned dual rear camera setup. Rumours suggest that the company could equip it with a 48MP camera with dual aperture support that ranges between f/1.5 to f/2.4. While we can't be too sure of anything until the official announcement is made by Oppo, we suggest you consider the leaked images of the phone with a bit of salt.
Related Reads:
Oppo 'Reno' smartphone series announced, to officially launch on April 10