OnePlus 7(₹ 29999 at amazon) smartphones have started to get an OTA update that brings improvements in system and camera departments. The OxygenOS 9.5.5 update, which also brings along the May security patch, is apparently rolling out in Germany (as per XDA Developers forum) and in India. According to a report, the Indian variant (GM1901) of the OnePlus 7 is getting the OTA update with GM57AA build tag.
The size of the update is 125 MB. As mentioned, the update also brings the May security patch, which is actually a bit odd because the OnePlus 7 Pro is still stuck with the April 2019 patch. Besides the security patch, the OnePlus 7 is also updated with a series of camera-specific improvements and general bug fixes. It is to be noted that there is no official announcement on the update from the company.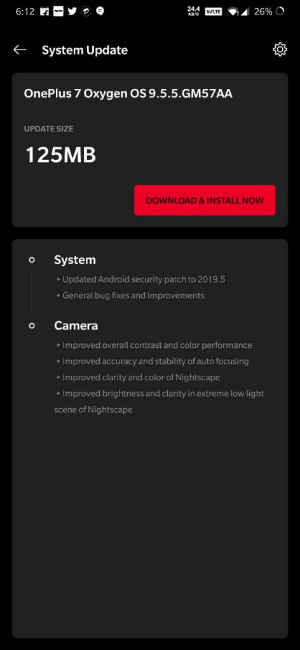 Camera-centric updates:
The OnePlus 7 gets a lot of camera enhancements that the OnePlus 7 Pro got with its latest OxygenOS 9.5.7 update. Just like in the case of OnePlus 7 Pro update, OnePlus hasn't clubbed the camera improvements together to simply call them 'Camera Optimisations', and pointed every area of enhancement.
As per the changelog, the update will improve overall contrast and colour performance of the images. Along with it comes with an improved accuracy and stability of auto focusing. The update also brings enhancements in the Nightscape, OnePlus' dedicated mode to shoot bright images in low light conditions. The changelog says that the images taken in the Nightscape mode will be clearer and the colours will be better. It will also bring improved brightness and clarity in extreme low light scene of Nightscape.