Working from home?
Don't forget about the most important equipment in your arsenal
Click here to know more
Highlights:
Both Samsung and Apple lost smartphone shipment market share.
Chinese players HOVX (Huawei, Oppo, Vivo and Xiaomi) end the year with positive growth.
HMD Global registered a 126 percent year-on-year (YoY) growth.
The global smartphone market saw a 4 percent decline in shipment in Calendar Year (CY) 2018 even as the fourth quarter of the year saw a 7 percent fall, Counterpoint Research's Market Monitor Service has said. The research firm claims that the decline in shipments in Q4 2018 marks the fifth consecutive quarter of this behaviour. Chinese players HOVX (Huawei, Oppo, Vivo and Xiaomi) continue to defy market decline ending the year with positive growth, the report notes.
"This is the first time that the global smartphone market has witnessed decline for a whole year. The decline in smartphone shipments can be attributed to lengthening replacement cycles in developed markets like US, China and Western Europe. Smartphone OEMs tried to push sales by adding features such as AI, multiple camera assemblies, full-screen displays, in-screen fingerprint scanners etc. but consumers held on to their devices longer due to the absence of groundbreaking innovations and higher prices of devices being offered by the OEMs," Tarun Pathak, Associate Director at Counterpoint Research, said in a statement.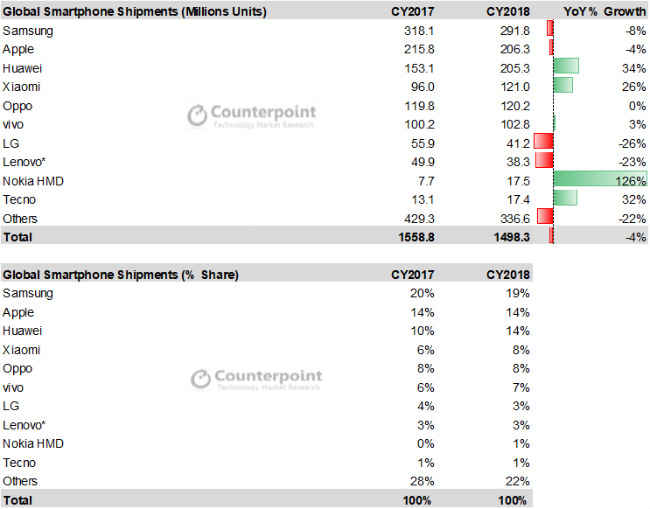 Pathak said that in 2019, the smartphone-makers are looking to launch devices with specifications like 5G, foldable displays, punch-hole cameras and full-screen in-display fingerprint scanners to lure consumers to upgrade. The global decline can be attributed to the decrease in smartphone shipments in China, which was responsible for almost 1/3rd of global smartphone shipments in 2018.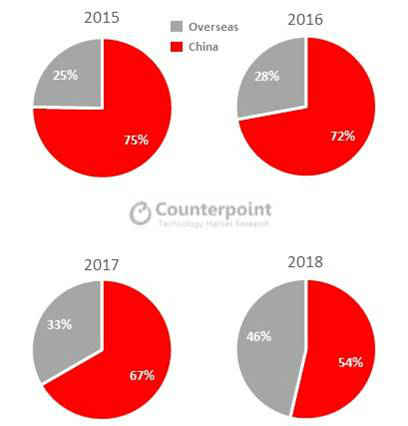 The magnitude of decline is so huge that the collective smartphone shipment growth of emerging markets such as India, Indonesia, Vietnam, Russia and others was not enough to offset the decline in China. "With China showing little or no sign of recovery due to various politico-economic factors, Chinese brands are looking to expand overseas. To increase market share, Chinese brands have been aggressive in both hardware/software design and marketing. They are bringing many firsts into smartphone designs and are taking multiple brand strategies to enter new segments without making a compromise of their brand image," added Shobhit Srivastava, Research Analyst at Counterpoint Research.
Brand-wise segregation of smartphone shipments:
Samsung and Apple saw a tough quarter and tough 2018 as demand for their flagship phones have waned due to competition from affordable premium offerings from Chinese brands such as Huawei and OnePlus. Apple has already attempted to reduce prices in China in oorder to reduce losses, but the firm claims that a small price cut will not move the needle. It says that Apple's buy-back programmes and installment plans "will be more effective."

Huawei took the third spot, followed by Xiaomi, which surpassed Oppo globally to take back the fourth position. BBK Group, which owns Oppo, Realme, Vivo and OnePlus brands, is collectively the world's third largest manufacturer, even bigger than Huawei in terms of volume. HMD Global, the company that sells the Nokia-branded phones, registered a whopping 126 percent year-on-year (YoY) growth in the CY2018. In the fourth quarter, the company registered a 6 percent YoY growth.
Related Read:
Jio Phones top feature phone, overall handset Indian market in 2018: Counterpoint Research