The Nuvifone M10 from Garmin-ASUS with Windows Mobile 6.5.3, 3.5-inch WVGA screen, and navigation software from Garmin
Garmin Asus recently announced the latest addition to their Nuvifone mobile phone range - The Garmin-ASUS Nuvifone M10. Garmin-ASUS' previously launched phone failed to leave a mark on Indian customers. The G60 and M20 were too expensive for India's taste and were far from impressive in features. G60 came with a steep price tag of Rs.30,000 with no video recording and playback capabilities. It also did not allow the user to install third party apps. The M20 cost around Rs. 28,000 and came with similar shortcomings. Garmin, which is an American company, is one of the top names in Navigation. These phones were just alternatives to stand-alone navigation devices and a bit too expensive at that.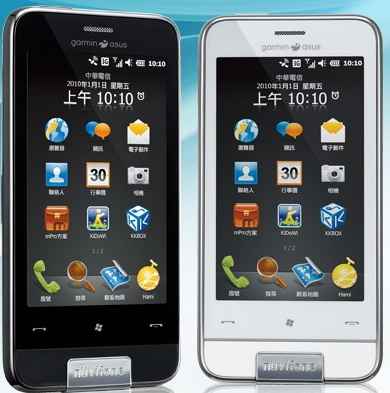 Their new phone - The Nuvifone M10 plans to erase those bad memories for Garmin ASUS. It has a very high value associated with it since it is the first phone to ship with the latest Windows Mobile 6.5.3 (Codename Maldives). It is available for pre-order if you are in Taiwan. Its official release around the world is expected in the Mobile World Congress taking place in February this year.
Nuvifone M10 has a very impressive spec sheet. It sports a 3.5-inch WVGA (800 x 480 pixels) TFT touch screen display. It has the acclaimed navigation software from Garmin which ensures that M10 is also a great Navigation device. It packs in a 5 mega pixel camera, reportedly, with video recording capabilities. It is decent in connectivity with its W-Fi support and Bluetooth. Hopefully, it will not be very laggy as it packs 512 MB of ROM and RAM. Though, its processing will be relatively slow due to a Qualcomm MSM 7227 600 MHz CPU. It has 4 GB of internal memory with a support of MicroSD card (up to 32 GB). Reportedly, it will be bundled with a spare battery or a card holder for Navigation.
There has been no official announcement from Microsoft on the software part of this device. Thus, we have only as much knowledge as leaks impart us. Windows Mobile 6.5.3 apparently has support for threaded E-mail messaging. If this part is true, then we give a plus one to Microsoft. It also comes with a "thinner task bar on top", though we don't yet know what that is supposed to mean. This is all we know about this Mobile OS as of now.
We can expect a full unveiling of the device at the Mobile World Congress in the next month. Microsoft is also expected to release this update to their previous Mobile OS. These reports contradict the previous ones which declared that Microsoft would unveil Windows Mobile 7 at the MWC. Tech expos have the unique ability to surprise people. We will have to wait and see what will be Microsoft's move at this event.