It is that time of the year when deals start raining. While we will be covering the best deals across categories during the entire deal period, some of the Flipkart Big Billion Days teasers are pointing at some pretty good deals.
Yes, we are talking about the iPhone 12 and the iPhone 12 Mini deals on the Flipkart Big Billion Days which starts on 3rd October at Midnight at 12:00 AM.
Every year we see some pretty awesome deals on iPhones during the Flipkart Big Billion Days and this time the teaser put out on Flipkart has got us wondering. As you can see the slot machine graphic seems to be indicating a price of Rs. 49,999. Now that, if true, is surely a great price for the iPhone 12 (read our review of iPhone 12).
In case you want to know how the iPhone 12 stacks up against the iPhone 11. The iPhone 12 comes with a significant upgrade over the iPhone 11. Its superior A14 Bionic chip over the A13 Bionic Chip has 5G support, making it future proof. It also has an incredibly sharp OLED display to boot!
So, if you were holding on to that iPhone purchase, this deal could be the best iPhone deal of the season. And, the iPhone 12 deals don't end there.
Flipkart is also doing a "Guess the price" teaser for iPhone 12 mini and are yet to announce the deal price for iPhone 12 mini. However, going by the iPhone 12 deal, we reckon the iPhone 12 Mini deal might just be even better, maybe closer to the 40K mark. That's just our guesswork into play, but it would surely make for a great deal if it comes true. We shall keep a close eye on this one.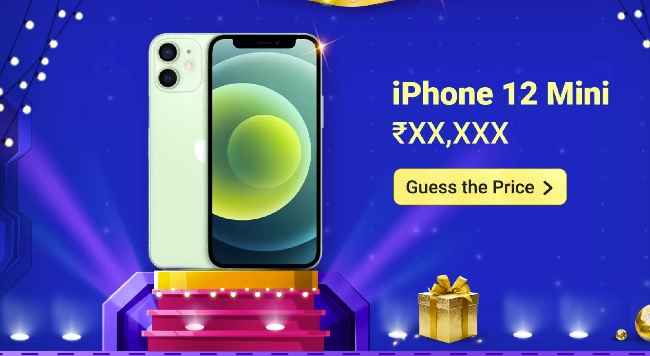 And finally, there is a 3rd iPhone deal teaser as well, this one is the iPhone SE deal, where pricing is expected to be closer to the 30K mark as per the teasers. That would possibly make it the most affordable iPhone deal so far!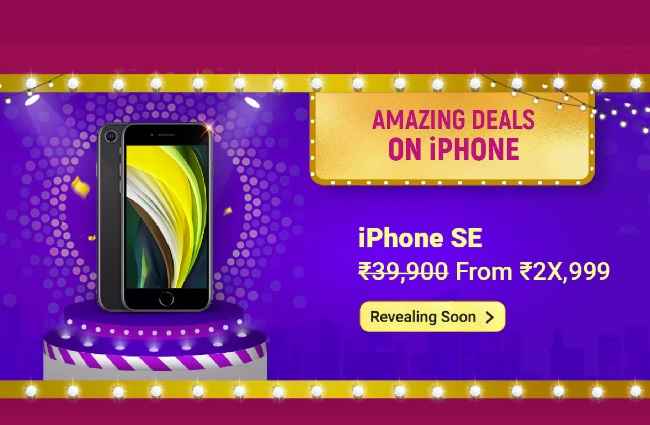 On top of all these deals, there is also an additional 10% discount on using an ICICI Bank or Axis Bank Credit/Debit Card. And the regular exchange offers on your old smartphones are also there for the taking.