#IBMCodePatterns, a developer's best friend.
#IBMCodePatterns provide complete solutions to problems that developers face every day. They leverage multiple technologies, products, or services to solve issues across multiple industries.
Click here to know more
Advertisements
Highlights:
Motorola Brazil accidentally reveals all Moto G7 series phones
The pages have now been removed
The Moto G7 has a mid-range Snapdragon 632 processor
Earlier this week, the press renders and the starting price of the Motorola G7 series phones were made public but there was little information about the specs of each of the phones that have been reported to launch under the G7 banner. In what can be called as the first official confirmation on models, variants and their specs, the Motorola Brazil accidentally listed the phones on the website. The listing has now been removed, a report said.
As per the Spanish CNET website, the Moto G7 series brings with it slim bezels and competitive specs for better performance in 2019. The report only talks in detail about the regular Moto G7 but also lists the specs of the other models of the series. The report says that the Moto G7 has a waterdrop notch and the fingerprint reader has been moved to the back of the phone. It also says that the Moto G7 has a 6.24-inch display.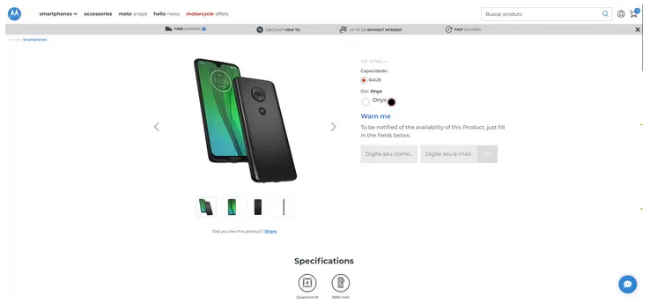 Under the hood, the Moto G7 has a mid-range Snapdragon 632 processor, which also powers the Moto G7 Play and Moto G7 Power. The Plus model has a Snapdragon 636 SoC. The spec sheet shared in the article also shows the G7 having 4GB of RAM. The G7 Plus is seen having a 4GB RAM (base), the Moto G7 Play has a 2GB RAM (base) and Moto G7 Power has a 3GB RAM. There's no information on the other variants of any of the phones.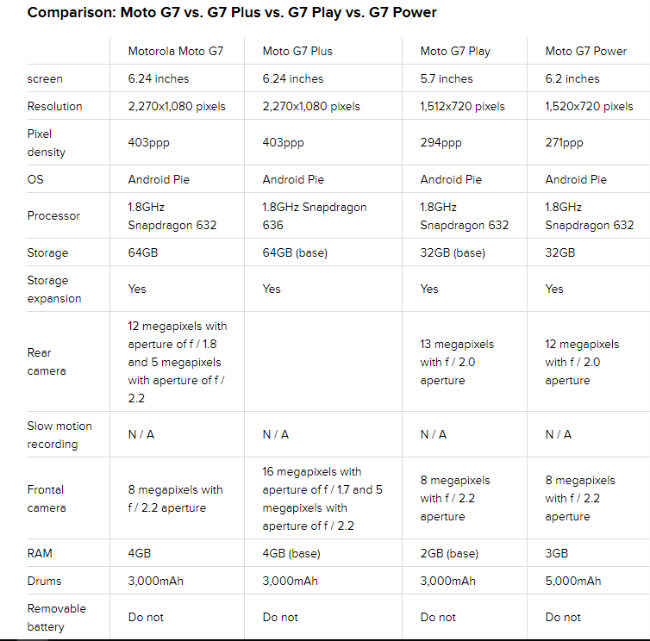 Digit does not have any confirmation on the specs listed on the CNET's website and we advise our readers to take these with a pinch of salt. Previously, a Geekbench listing showed one particular phone under this series being powered by the Qualcomm Snapdragon 625 processor, coupled with 3GB RAM. In the report, there is no mention of this processor. Also, it was reported that at least one model may have a more powerful SoC like the Snapdragon 660. There is no mention of this processor as well.
CNET claims that it contacted Motorola to verify the information, and the company responded, "Thanks for notifying". Shortly after the conversation, the company reportedly removed the web pages. Motorola has not announced the price of any of the phones under the Moto G7 series, but a previous report suggested that the Moto G7 Play may be priced at 149 euros (approx Rs 12,000) and the Moto G7 Power may cost 209 euros (approx Rs 17,000). Motorola is holding an event on February 7 in Brazil to launch the Moto G7 phones.
Related Read:
Moto G7, Moto G7 Plus renders hint at 'waterdrop' notch design, dual-rear cameras
Moto G7 Play EEC listing suggests it will come pre-loaded with Android 9 Pie
Moto G7 leaked specs hints 6.4-inch display, 3500mAh battery