If the DL Q33 sniper rifle is not being useful enough for you in Call of Duty: Mobile, the game is offering a limited-period free upgrade to the Arctic.50 rifle with a bat-themed camo of it. You only have two days to unlock the gun, otherwise the gun unlocks when you reach level 67.
The Arctic.50 rifle's stats reveal it can deal a one-shot kill damage if you aim right. The rifle has a lesser 85 damage point (can be extended to 95 with the FMJ-SR bullet), while the mobility and fire-rate is much better than the DL Q33's. The accuracy of both the rifles is the same. What this means is that the Arctic.50 has a faster rate of fire, letting you shoot faster than the DL Q33. Because of a higher mobility (largely due to lesser weight), the Arctic.50 also has less recoil.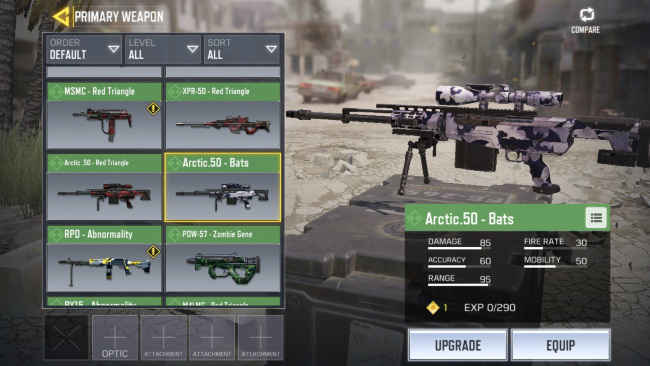 We played a round of Crossfire with the new rifle and the difference was quite noticeable. The gun comes handy in situations where you have to gun down multiple enemies in one go, especially in maps like Crossfire and Killhouse while playing Team Death Match or Frontline.
The attachments for the gun includes a tactical scope, same as the one you get for the DL Q33, the FMJ-SR bullet, extended mag, fast mag, suppressor and a stock.
Halloween is proving to be quite rewarding for COD: Mobile players. The game is also offering the Sparrow operator skill as part of the event. It's a bow-and-arrow with the arrows tipped with explosives. You can read up on all the new features that arrived as part of the Halloween update here.
For more technology news, product reviews, sci-tech features and updates, keep reading Digit.in or head to our Google News page.