Qubo Smart Security WiFi Camer with Face Mask Detection
India's most versatile weatherproof outdoor camera that protects your outdoors 24x7 and provides crystal-clear video streaming day and night through the qubo mobile app.
Click here to know more
Advertisements
Ever got frustrated while transcribing an audio file in which the speaker is talking in an unfamiliar accent? Microsoft heard you and has now introduced a feature that will automatically transcribe audio and video files in OneDrive and SharePoint. For the transcription, Microsoft will incorporate the same Artificial Intelligence (AI) technology that it currently uses in Microsoft Stream, a corporate video-sharing service that will gradually replace the existing Office 365 Video. The AI on the platform converts speech to text and auto-generates closed captions in a video.
"Today, we are announcing upcoming capabilities that, along with our recent investments, combine the power of artificial intelligence (AI) and machine learning with content stored in OneDrive and SharePoint to help you be more productive, make more informed decisions, and keep more secure," Omar Shahine, Partner Director of Program Management for OneDrive and SharePoint, said in a blog post.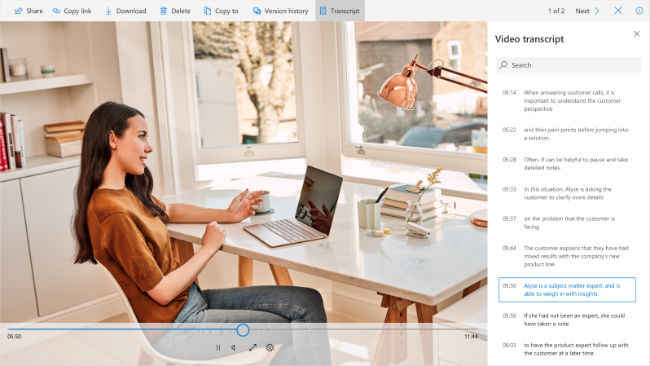 According to Shahine, the service will help users utilise their personal video and audio assets, as well as collaborate with others to produce best work. "Beginning later this year, automated transcription services will be natively available for video and audio files in OneDrive and SharePoint using the same AI technology available in Microsoft Stream. While viewing a video or listening to an audio file, a full transcript (improving both accessibility and search) will show directly in our industry-leading viewer, which supports over 320 different file types," the executive said.
This new transcription service will also make files more searchable in OneDrive. You can find videos, photos, and audio files by the content that's within them. The company said that if a user uploads and publishes a video to Microsoft Stream, it will continue to get transcription services plus other AI driven capabilities, including in-video face detection and automatic captions.