Highlights
Google unveils the Google Assistant Connect platform
Google Assistant integrated with Maps
Assistant can now check in to flights and book hotels
Google Assistant gets new Interpreter Mode for Home speaker and smart displays
Amongst the many new hardware announcements made at CES 2019, Google stepped and introduced a few new features added to the Google Assistant. This includes integration with Google Maps, Interpreter Mode, Flight check-in and Google Assistant Connect platform. Further, the company also unveiled a couple of new devices in partnership with third-party manufacturers.
Google Assistant Connect
Google Assistant Connect is a new platform for device manufacturers that allows them to integrate the Assistant into their products. The platform uses Google's existing smart home platform to expand to new device types. In its press statement, Google gave the example of a manufacturer who could create an e-ink display that would project weather or the user's calendar, while using the Assistant Connect platform to deliver content from a connected smart speaker. The Assistant would be able to handle the tasks that require higher-order computing. This could include thanks link checking what's on the calendar, check for updates and so forth. Google notes that it will share more about the Google Assistant Connect platform later this year.
Google Assistant integration with Maps
The Google Assistant has been integrated with Google Maps on Android and iOS. Users will now be able to share share their ETA with friends and family, reply to text messages, play music and podcasts, search for places along the route, and add stops using their voice. Google notes that on Android, the Assistant will work with messaging services such as WhatsApp, Messenger, Hangouts, Viber, Telegram, Android Messages and more.
Google Assistant flight check-in and hotel booking
The Google Assistant on Android and iOS will soon be able to check into flights, as well as save and retrieve boarding passes. However, it should be noted that the feature will initially be available with United Airlines. Further, Google has partnered with Choice Hotels, AccorHotels, InterContinental Hotels Group, Priceline, Expedia, Mirai and Travelclick to allow the Assistant to book hotels. Besides this, the company will be adding support for Google Keep, Any.do, Bring! and Todoist.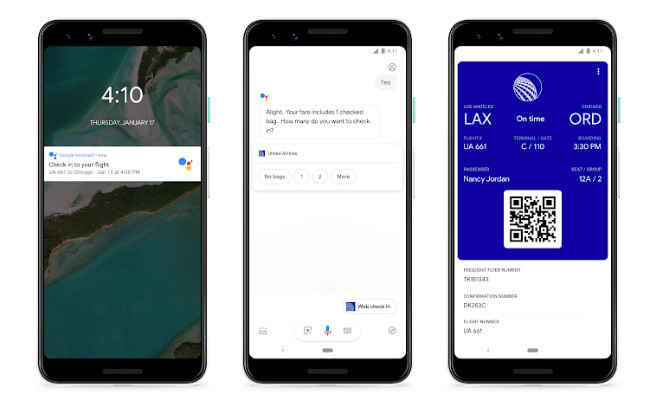 Interpreter Mode
Google is also rolling out Interpreter Mode for Google Home devices and smart displays over the next few weeks. A phrase such as :Hey Google, be my French interpreter" will start the mode and offer real-time spoken translation. Smart display will also offer written translation.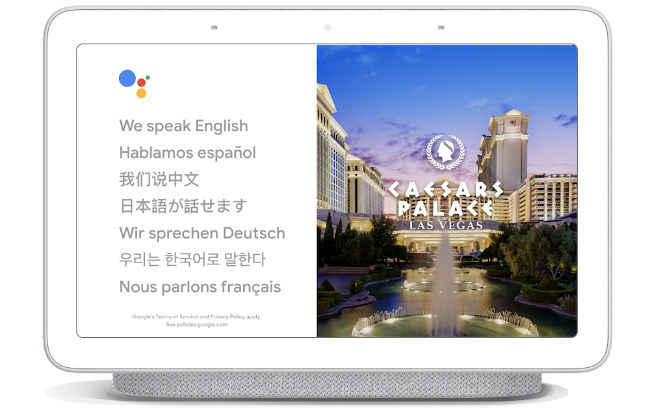 New devices
Google also highlighted some new devices made in partnership with other manufacturers. This included the Lenovo Smart Clock, which feature a 4-inch touch screen that also offers alarm suggestions based on the user's daily routine. It also features an auto-adjusting screen brightness, animations as well as the option to control other smart home devices.
Whirlpool's new KitchenAid Smart Display features the Google Assistant and guides users through recipes, while giving them the the option to control smart home devices as well. JBL and Anker will also launch in-car accessories with the Assistant built-in. This includes the Anker Roav Bolt and the JBL Link Drive, both of which will connect the car's socket. These accessories will allow users use the Assistant, without the need to unlock their phone. Further, Google announced that it will be integrating the Assistant with the Sonos One and the Sonos Beam.