Comments, the one place you can agree, disagree, fight with or have a laugh at the expense of people you don't know. It looks like YouTube is looking to redesign the way users see comments on the video streaming platform. Traditionally, on an Android smartphone, the comments are listed below the "up next" playlist. In the new UI being tested by YouTube, the comments appear as a clickable button between the dislike and the share button. Once a user clicks on this button, he/she will see the comments. Dragging down on this will refresh the comments.
To make space for the new Comments button, YouTube has moved the "Save to watch later" button, which is now a part of the download button in the UI. Traditionally, there was an arrow here which would reveal the description of the video. It isn't clear when the new UI will be available to all users. As of writing this story, we don't have access to the new UI. It isn't clear why YouTube is making the change, but the only logical explanation is to improve the user experience. It is possible, that YouTube is looking to give a clean video consumption experience to those that aren't interested in comments and creating a separate hub for those looking to express their opinion about the video.
It isn't clear how this feature will be reflected in live videos. When a live video is being watched on YouTube, the comments are on by default (if comments are enabled by the publisher of the video, that is). For live video comments to be disabled manually.
In other YouTube related news, YouTube will soon let viewers try on makeup with a new AR beauty try-on tool. The tool will offer realistic, virtual product samples that work on all skin tones. You can read more about the AR tool here.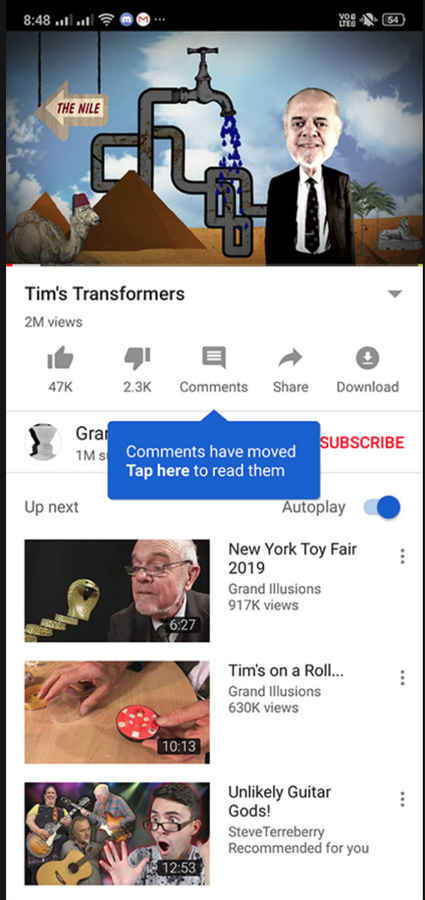 Image courtesy: XDA Developers