Amidst rampant misinformation around the Covid-19 outbreak, WhatsApp is testing a feature that will help users verify the authenticity of forwarded messages. The feature has been long overdue and according to WABetaInfo, WhatsApp will offer an option to search a forwarded message to see if it's real or fake.
The WhatsApp fake forward chain starts with one person creating a fake message with malicious intention with the aim to make it go viral through multiple forwards. WhatsApp did introduce a limit to the number of people you can share a message with at one time, and now it has reportedly stepped up its efforts even further.
The WABetaInfo report states WhatsApp is already working to "introduce some options to launch the feature for Frequently Forwarded Messages". WhatsApp was previously working on a feature that could verify whether a forwarded image is authentic or fake, but the feature never made it to the masses.
How can you verify the authenticity of WhatsApp forwards?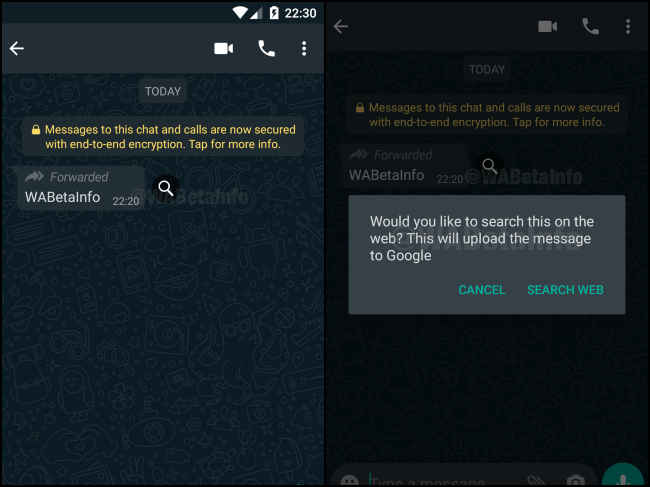 Forwarded messages already come with the 'Forwarded' tag on top of them. Now, you will also see a small search icon next to the text. Tap the icon and WhatsApp will ask if you wish to search the message on Google to verify its authenticity. Allowing WhatsApp to query the message will take you to a Google search results page. You may also choose to cancel the search.
The feature is currently under testing and the only confirmation we have of its existence is via a screenshot shared by WABetaInfo. It's likely that the feature will roll out to Android users first and subsequently be made available for iOS users as well.
Searching messages for authenticity on Google is something fact-checkers have been doing all this while. Now, instead of the verification result going up on their individual websites or on other social media platforms, it will be displayed right next to the forward itself. The tool can be an effective measure to tackle fake news, especially in times like this when a lot of forwards are propagating superstitions and fake science to tackle the coronavirus outbreak.