After having suffered a series of hacking attacks a few months ago, Twitter has finally announced rolling out a two-step authentication system to help its users keep their accounts more secure.
"Every day, a growing number of people log in to Twitter. Usually these login attempts come from the genuine account owners, but we occasionally hear from people whose accounts have been compromised by email phishing schemes or a breach of password data elsewhere on the web," says Twitter in a blog post.
How to enable the two-factor authentication
When you sign in to Twitter.com, the website will ask you a second check to ensure it's really you. The site will ask to enter the verified phone number and a confirmed email address.
To get started, you need to visit account settings page. Choose the "require a verification code when I sign in". Then click on the link to "add a phone" and go ahead the with prompts. After having enrolled in login verification, you'll be asked to enter enter a six-digit code that Twitter sent to your device via SMS each time you sign in to twitter.com.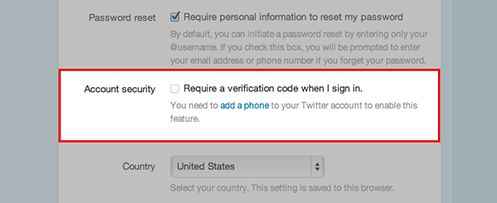 "With login verification enabled, your existing applica"ions will continue to work without disruption. If you need to sign in to your Twitter account on other devices or apps, visit your applications page to generate a temporary password to log in and authorize that application," adds Twitter in the blog post.
Check out the video below to learn how to use Twitter's two-factor authentication. You can also check out its help centre documentation.