Twitter has added Emoji characters on desktop and web versions of the service.
Twitter has designed its own set of characters for web tweets, allowing a much improved experience across platforms. Earlier emoji characters were supported on Android and iOS devices only.
Though It appears that the emojis aren't supported in tweets that are embedded on websites. On Windows, each character appears as a blank square unless you click through to the tweet, while other platforms display their regular set. Still, the addition of emoji, will make sure that the tweets don't appear devoid of emotion for those who use Twitter on the web on a regular basis.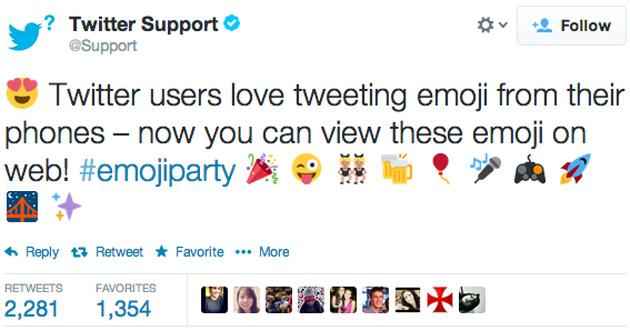 Twitter which has more than 241 million monthly active users is working on making the site more user-friendly. It had recently introduced a new feature in its advanced search that allows you to search for a tweet in a specified date range. Twitter is also testing a Fave people Time Line that will allow users to go through the time-line for favorite people. The new feature is currently available on Twitter's alpha Android app only.
The micro blogging site has seen a decline in its users in the past year and is now trying to simplify its site to attract more users. According to Vivian Schille, Twitter's Head Of News, the micro blogging site may remove hashtags and @ replies. She hinted that they may be removed soon from the service to provide a more 'streamlined' approach to help new users understand the concept of Twitter. Twitter has seen an increase of just 3.8 percent in the last quarter as compared to 10 percent growth in the beginning of 2013.
Source: Twitter