Chrome OS has gone through a lot of criticism, both positive and negative, even while being a mere concept. Now it has finally been unveiled by Google, and it might just be a little different from what you expected. Although it does look like Chrome Browser version which leaked earlier.

Most important things first: no, there is no beta release, and Google Chrome OS will probably not be available from Google to install on your computer, at least not any time soon.

Chrome OS is designed, as Google says, to work like a TV -- instant on and instant off, and this requires more than just operating system optimizations to pull off. A Google Chrome OS-based computer will discard most of the bloat in the boot process today and cut a system down to its essentials.

A computer today wastes precious time looking for hardware -- such as floppy drives -- which are no longer present. Google Chrome OS devices will feature custom firmware with certified hardware and a new boot process which will ensure that Chrome OS will be up and running in mere seconds. Google Chrome OS will run off of solid state hardware to further maximize speed. Since Chrome OS is designed to run all applications directly from the net, there is little need for large hard disk spaces anyway.

Speed, Simplicity and Security are the three keywords to Google Chrome OS. The speed and simplicity already accounted for -- speed due to the revamped hardware, and simplicity since the entire OS is essentially a browser -- we now come to security. Chrome OS touts the security paradigm of a web application compared to a native application. Unlike native applications, a web application cannot run interact directly with the hardware on a computer, nor do anything outside of the sand-boxed environment of the browser.
Furthermore, the operating system and the firmware are signed, which means that tampering and malware will be detected during the boot process itself and will trigger an update of the system which will bring it back to normal. Additionally, the entire OS will be auto-updated, as and when updates are available, ensuring that you have the latest security updates; and since all of your applications are on the cloud, they will already be their latest versions.
Finally, all of your data is encrypted, so even if you were to lose your computer, your data cannot be stolen off your computer, and since everything is synced to the cloud, you won't lose your data either!

Applications running on Google Chrome OS will all run off the web directly, although the OS features something it calls "panels" which are essentially small widget-like applications which minimize to the status bar area from where they can be recalled. Google demonstrated a notepad widget which automatically saves to Google Docs; they also demonstrated Google Chat and a MP3 player widget from its new music search engine. HTML5 is a huge center-point for Chrome OS with its advanced video, audio, offline store technologies, and so on. And unsurprisingly Chrome OS will have full Flash support.

The Google Chrome OS browser also supports multiple open windows. The window switching mechanism is kind of similar to that you see with Windows 7 with task-bar previews. The windows are listed and hovering on each further pops up the tabs opened in each. Here's a screenshot to make it clearer: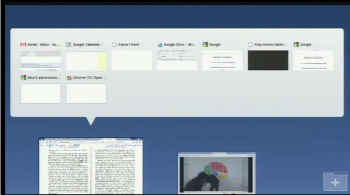 Window switching in Chrome OS
(The ' ' button creates a new window)


In a demonstration of working on documents from external devices, Google showcased how one could open documents from a pen drive. The pen-drive contained Excel documents which opened straight in the Excel Live web app! Wow! Did Microsoft just help make Chrome OS work better?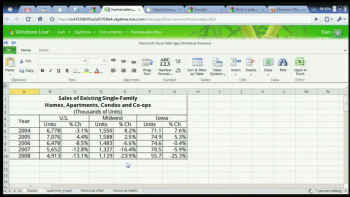 Microsoft Excel Web app running on Google Chrome OS


Currently it is possible to run Chrome OS in a VM if you build it yourself. Don't worry though, it is open source and soon you will see a community of people with ready-made solutions and guides to getting it running on your computer.
For videos about Chrome OS click here.
Got itchy finger? Download and build chrome os yourself! Click here for the chromium os source code repository.