having a good internet connection at home has never been more important. With students attending classes from home and more and more people working from home, users' reliance on the internet has gone up considerably. From attending school and college lectures to watching your favourite movies and TV shows, downloading and playing games and even video chatting with loved ones, Internet access today is considered a basic necessity. A lot of service providers have launched affordable plans for those looking to upgrade their internet connection. If you are looking for an unlimited broadband plan, you can check out our list of best-unlimited broadband plans here. Today, however, we are talking about a plan that brings with it a high speed of 300 Mbps. The plan on offer is from Tata Sky and is available in a fixed GB plan as well as an unlimited data plan. Let's take a look at the plan in detail and see how it compares to other competing services.
Tata Sky 300 Mbps Plan details
The Tata Sky 300 Mbps speed plan is available in a bunch of cities in both its unlimited data and limited data avatar. The price of the 300 Mbps unlimited plan is set to Rs 1,900 per month, or Rs 5,400 quarterly, or Rs 9,720 for 6 months and Rs 18,360 annually. These prices are excluding GST. Despite being classified as an unlimited plan, Tata Sky's website reads, "For Unlimited Data plans, speed will reduce to 3 Mbps after 3300 GB data consumption for 300 Mbps plan and 1500 GB data for other Unlimited Data plans" Also please note that if you are interested in the 300 Mbps plan, the Tata Sky website says, "300 Mbps plan is available in selected areas and is subject to technical feasibility."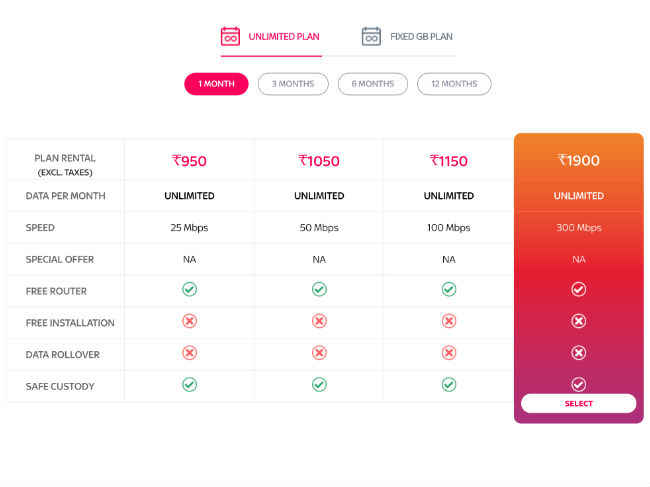 If you don't want unlimited data then you can consider getting 300 Mbps with limited monthly data. The data limit for 300 Mbps is 500GB per month. After 500GB the speed drops to 3 Mbps. The monthly price for this plan is Rs 1470 per month, Rs 4200 quarterly, 7560 half-yearly, and Rs 14280 annually. With the limited data of 500GB per month, users also get data rollover.
If you are fortunate enough to have multiple service providers in your area offering broadband, then here is a look at some other internet providers with a 300 Mbps plan or a plan that's close to it.
Airtel 300 Mbps Plan details
Airtel likes to keep it simple. If you want unlimited data, then add Rs 299 to your current plan and the data cap is removed. Airtel also offers 300 Mbps speed and it is priced at Rs 1499 per month and offers 500GB of data. This is quite close to the Rs 1470 price of the Tata Sky 300 Mbps broadband plan.
In addition to 300 Mbps speed, the Airtel plan also gives users Amazon Prime Video and Airtel Xstream services.
JioFiber 250 Mbps Plan details
Jio doesn't have a 300 Mbps plan but it does have a 250 Mbps plan. The 250 Mbps JioFiber plan has a data limit of up to 1750GB. Let's break that down. The plan gives users 500GB of data and is offering an additional 500GB data (double data) as a part of the lockdown. Users also get introductory data of 250GB. If you decide to pay annually, you get an additional 500GB. However, one should note that at 250 Mbps, JioFiber also gives users 500GB data per month. After the FUP, the speed drops to 1 Mbps speed.
The JioFiber 250 Mbps plan also includes subscriptions to OTT services if the user pays quarterly, half-yearly or annually.