Tata Sky 200 Mbps plan is priced at Rs 1050 (excluding tax). The plan brings with it unlimited data. We take a look and see how this offering compares to the broadband offering of JioFiber and Airtel.
With more people relying on a good internet connection at home to get work done, it is obvious that service providers need to offer fast speeds with high data to have a smooth work from home and binge from home experience. With Airtel removing data caps from its plans and Jio offering some interesting broadband plans, it is up to other players like Tata Sky to stir up the home broadband market. In an attempt to do so, Tata Sky has reduced the price of its 300 Mbps broadband plan and introduced a new 200 Mbps plan to bridge the gap between the 150 Mbps and 300 Mbps plans. The Tata Sky 300 Mbps plan which would have cost Rs 1900 per month for unlimited data is now priced at Rs 1500 for unlimited data. These prices are before taxes.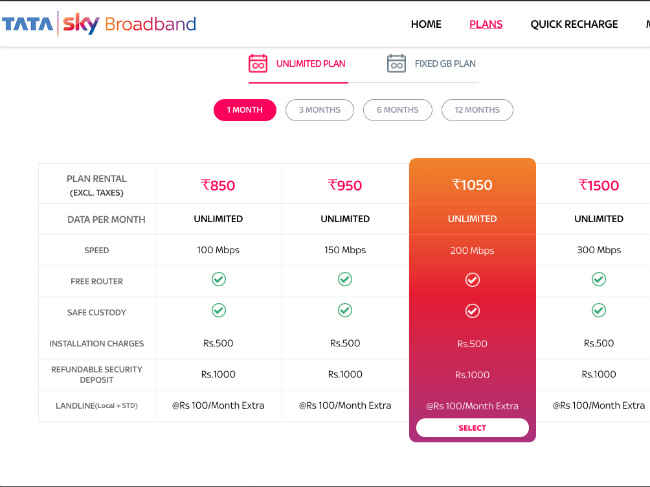 But if you are looking at a cheaper alternative or your router isn't capable of handling 300 Mbps, then you may want to check out the newly introduced 200 Mbps plan from Tata Sky. Let's take a look at the plan in detail and see how it compares to other competing services.
Tata Sky 200 Mbps plan details
The Tata Sky 200 Mbps speed plan is available in a bunch of cities offering users unlimited data. The price of the 200 Mbps unlimited plan is set to Rs 1,050 per month, or Rs 3,000 quarterly, or Rs 5,550 for 6 months and Rs 10,200 annually. These prices are excluding GST. Despite being classified as an unlimited plan, the plan offers a monthly cap of 3300 GB under the fair usage policy. Tata Sky's website reads, "For Unlimited Data plans, speed will reduce to 3 Mbps after 3300 GB data consumption."
Airtel 200 Mbps plan details
Airtel also offers 200 Mbps speed and it is priced at Rs 999 per month and offers unlimited data. This is a mere Rs 50 cheaper than the Tata Sky plan and if you opt for quarterly payment, the cost is the same as Airtel while half-yearly payments make the Tata Sky plan cheaper than Airtel.
In addition to 200 Mbps speed, the Airtel plan also gives users access to services like Lions Gate Play, Voot Basic, Eros Now, Hungama Play, Shemaroo Me, Hoichoi, and Ultra.
JioFiber 150 Mbps Plan Details
Jio doesn't have a 200 Mbps plan but it does have a 150 Mbps plan and a 300 Mbps plan. The 150 Mbps JioFiber plan offers unlimited data. The plan is priced at Rs 999 + tax and there are options for quarterly, half-yearly and annual payments priced at Rs 2,997, 5994 and Rs 11988 respectively before taxes.
The JioFiber Plan also brings with it access to Amazon Prime Video, Disney+ Hotstar VIP, SonyLiv, ZEE5, SunNext, Voot, Alt Balaji, Hoichoi, Shemaroo Me, Lions Gate Play, Jio Cinema & Jio SAAVN.