Facebook CEO Mark Zuckerberg's recent Q&A on the social network turned into a celebrity fest with theoretical physicist Stephen Hawking, actor Arnold Schwarznegger and Huffington Post founder Arianna Huffington joining in to question head of the world's largest social network. The hour-long Q&A had questions that ranged from the future of technology to what the Facebook chief would take with himself on a desert island.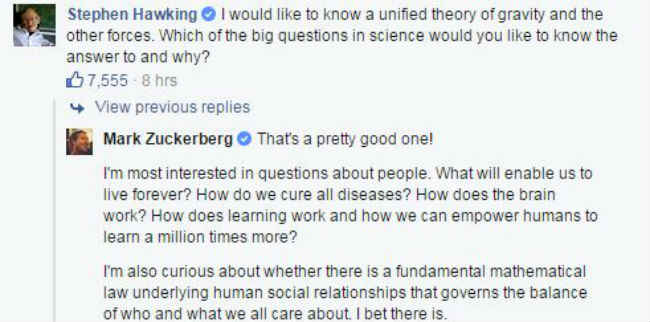 Hawking asked Zuckerberg which of the big questions in science would he like the answer to and why, while Huffington's question was about how media organisations would be publishing stories online in future. Schwarzenegger on the other hand was interested in what Mark Zuckerberg's fitness regimen was like.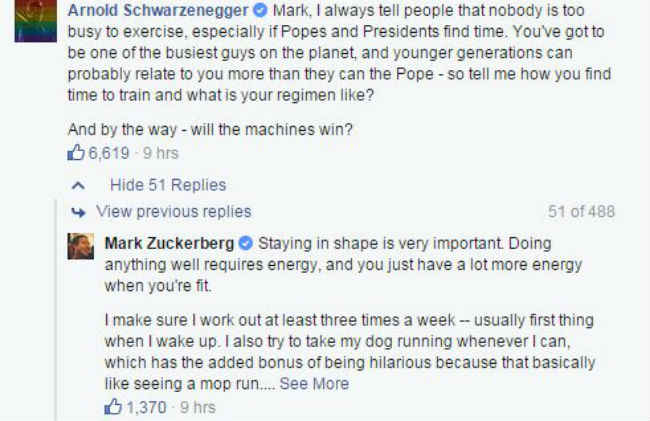 Zuckerberg also answered questions about the future of Facebook and its AI research. On the AI front, Zuckerberg said Facebook's AI research is focused on understanding the meaning of what people share. "if you take a photo that has a friend in it, then we should make sure that friend sees it. If you take a photo of a dog or write a post about politics, we should understand that so we can show that post and help you connect to people who like dogs and politics. In order to do this really well, our goal is to build AI systems that are better than humans at our primary senses: vision, listening, etc," said Zuckerberg.
Zuckerberg also said he believes that while people will still carry phones in the future, they'll also have glasses on their faces that can help them through their day and share their experiences with people they love.