Vostro 3501
Popular tech to stay connected anywhere. Save more on exciting Dell PCs.
Click here to know more
Advertisements
Finally SeaMonkey 2.1 has been released, featuring the latest Gecko 2.0 browser engine that brings SeaMonkey up to par with Firefox 4 in terms of JavaScript speed and support for the latest web standards.
For those that didn't know, Mozilla Firefox, was a spin-off of browser component of the Mozilla Suite.The Mozilla Application Suite itself was based on the Netscape Communicator. The suite featured not only a browser, but also an email / newsgroup client, an IRC client, and a capable WYSIWYG web page development tool.
While Mozilla abandoned development of the suite, and focused development on the separate browsing (Firefox) and email (Thunderbird) modules instead, the task of further developing and and maintaining the Mozilla Application Suite was taken up by volunteers and driven by the community but with help from Mozilla.
SeaMonkey now features some of Firefox 4's greatest features, such as the new add-on manager, support for lightweight themes (Personas), Sync support, which has previously been available via an add-on. SeaMonkey also brings out-of-process plug-ins to the browser, so now plug-in crashes will not longer bring down the browser.
Another new feature in SeaMonkey, and one that is yet to come to Firefox (but will), is a new Data Manager that lets one view their privacy settings, and private data in once central page. The Do-Not-Track header has also been implemented.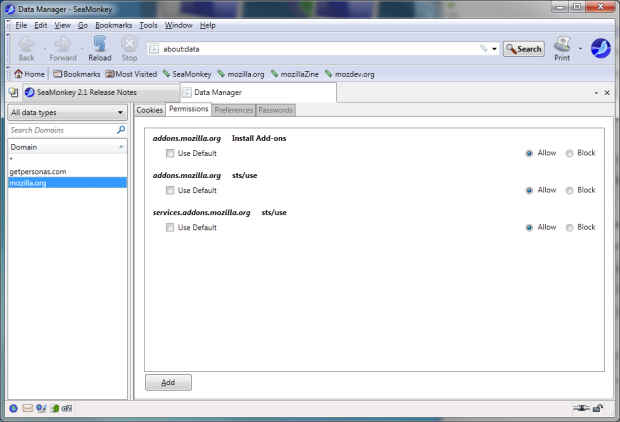 SeaMonkey is a great browser built on the same browser engine as Firefox, and is very suitable for those that need more than just a browser for surfing websites, and would like a better integration between their internet applications.
Check out the release notes of SeaMonkey for more about what is new, and can download it from here.