Reliance JioFiber internet service is finally officially available in the country. Mukesh Ambani, the chairman of Reliance Industries, had previously announced that the company's fiber broadband service will commercially roll out on September 5 and finally, the service has gone live across 1600 Indian cities. While the company demoed multiple new features of its upcoming service during its 42nd AGM, it didn't reveal the plan pricing and other details. However, as promised, the JioFiber monthly subscription plans are priced starting at Rs 699 and offer a minimum speed of up to 100Mbps. Here, you will find all the new information Reliance has revealed regarding JioFiber. Additionally, alongside the JioFiber plans, the company has also detailed some other upcoming JioFiber services like free subscription to OTT apps, a free fixed landline service, and more.
Reliance JioFiber plans
JioFiber plans are finally revealed and as mentioned earlier, they start at Rs 699 and offer speeds of up to 100Mbps. New customers will need to make a one-time payment of Rs 2,500 as a deposit charge, out of which Rs 1500 is a security deposit while Rs 1,000 is the non-refundable installation charge. A user subscribing to the Rs 699 base plan called 'Bronze' will get to use unlimited data at 100Mbps speeds for up to 100GB + 50 GB. Post exhaustion of this data, one will be able to access the internet at a speed of 1Mbps, and the extra data is being offered for six months as an introductory benefit. Do note that the mentioned 1Mbps speed cap is applicable on all JioFiber prepaid recharge plans.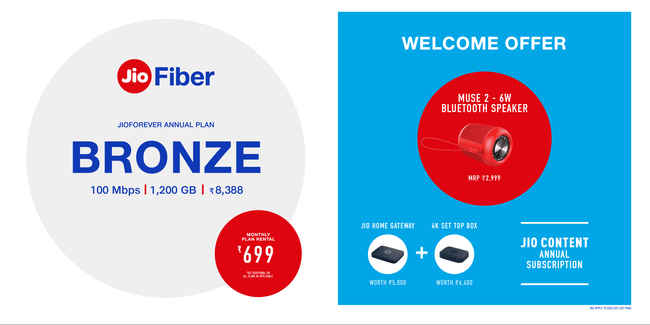 Next up is the Rs 849 prepaid JioFiber plan called 'Silver.' The recharge option will credit 200GB of high-speed data, along with an additional 200GB as a part of the introductory offer. Similar to the Rs 699 Bronze plan, the internet speeds one will get here are up to 100Mbps.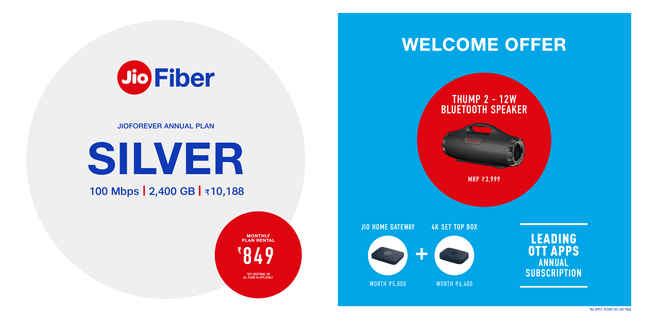 The Rs 1,299 Gold prepaid plan offers 500GB of monthly data at speeds of up to 250Mbps. As an introductory offer, the telco is giving out 250GB of additional data.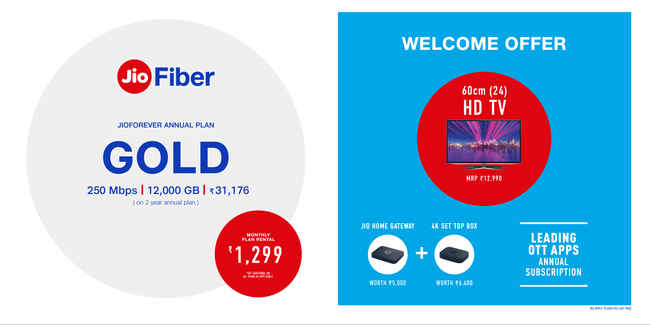 Moving on to the Rs 2,499 Diamond JioFiber plan, it offers 1250GB of monthly data at 500Mbps speeds. There's also 250GB of additional free data for six months as a part of the introductory offer.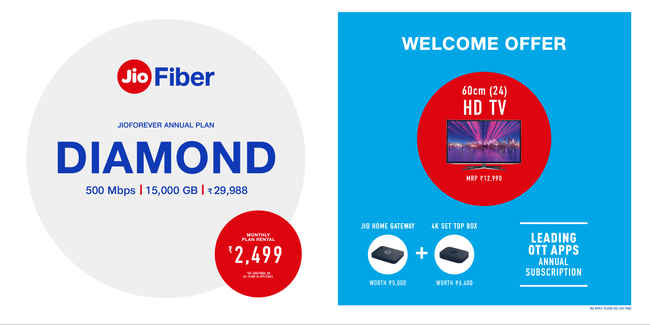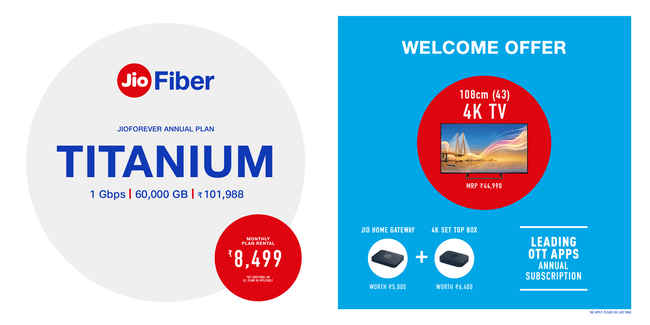 For users who require high bandwidth and data, the Rs 3,999 Platinum plan offers up to 1Gbps speeds for 2500GB data. Finally, there's the Titanium JioFiber plan that is priced at Rs 8,499 and offers up to 1Gbps speeds for 5000GB of data. As mentioned earlier, all of these plans have a FUP of 1Mbps after the allocated data is exhausted.
All of the aforementioned prepaid JioFiber plans will come with free voice benefit and offer TV video calling. 'Zero-latency' gaming and home networking service like content sharing will also be included with the JioFiber internet service. An additional bit to notice about the service is that it comes with Norton device security that will be available for up to 5 devices.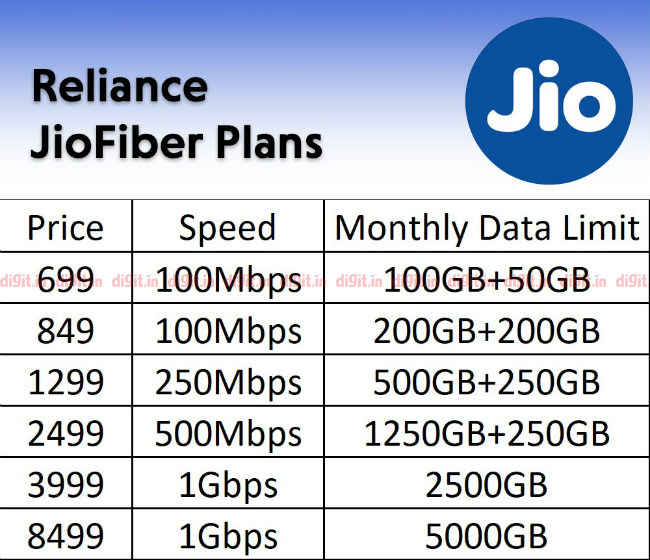 The JioFiber Platinum and Titanium plans will also enable users to access VR content and the First Day-First Show movies, along with special sports content.
JioForever annual plans
With JioForever annual plans, users will be able to get Jio Home Gateway offers, along with Jio 4K Set Top Box, a TV set that will be available for those who subscribe to JioFiber Gold plans and above.
JioFiber Welcome offer details
Jio is bundling some Home Gateway devices and the Jio 4K Set Top Box for free with all plans of the JioFiber service. With the Bronze JioFiber plan subscription, users get three months of free access to JioCinema and JioSaavn. However, those who opt-in for the Silver plan will get three months of subscription to OTT apps, details about which Jio is yet to reveal. Gold, Diamond and Platinum JioFiber prepaid plan subscribers will be able to avail a free annual subscription to OTT apps.
JioFiber long term plans
JioFiber users will also get access to three, six and 12-month plans that are touted to offer more value to the company's customers. Jio is also partnering with banks and is expected to soon announce EMI schemes.