Google has again been banned completely in almost all parts of China.
Update: It now appears that Google Dashboard overestimated the level of blockage. People in China suffered from some minor blockages last night, but are able to access Google's service perfectly now. Here's Google's statement on the issue, as emailed to TechCrunch:

Because of the way we measure accessibility in China, it's possible that our machines could overestimate the level of blockage. That seems to be what happened last night when there was a relatively small blockage. It appears now that users in China are accessing our properties normally.
Please also note that the dashboard is not a real time tool.
---
And so the saga continues. With twists and turns aplenty, welcome to the latest episode of Google vs. China.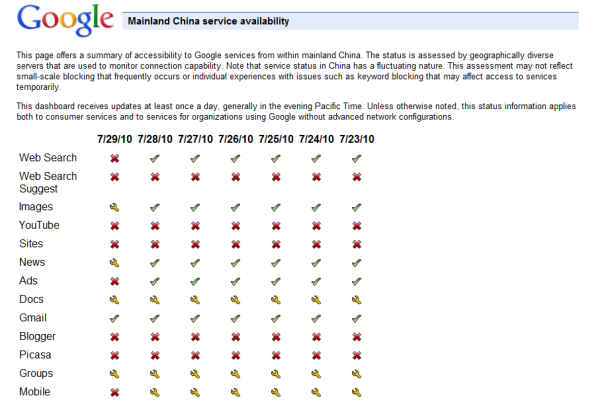 As this episode is being written, almost all services of Google in mainland China have been blocked. While services like YouTube, Picasa and Blogger have been blocked for a while now, today the Search, Ads and Mobile sites have been 'completely banned', which stands for a 67-100% block, according to Google's Mainland China service availability page. Although a small percentage, was able to access the services. Moreover, 'News' and 'Images' have also been partially blocked (19-66% blocked). That leaves only one Google service that is fully unblocked - Gmail.
The 'twist' is that in the 'previous episode', on 20th July, 2010, China had expressed its 'satisfaction', because Google had bent its '.cn 'domain to fit Chinese censor laws, while a link was provided to the '.hk' Hong Kong server on the page. This was after China renewed Google's ICP(Internet content provider) license earlier this month,
Something seemed to have provoked the Dragon again to perch its head on the Great Firewall and blow a rivulet of fire that has already lead to a 1.4% decrease in Google's share price. Rival search engine, Baidu has seen its share rise by 3.5%. Someone's loss has to be someone else's gain! And Google, who quit China back in January, might finally put the lid over a country that is a booming market but, ideologically, completely out of phase with Google.