Want to modernise your banking loan application?
Build an application that analyses credit risk with #IBMCloud Pak for Data on #RedHat #OpenShift
Click here to know more
Advertisements
Well, things just got interesting. Popcorn Time is a new open-source software created by developers in Buenos Aires that lets you stream and watch movies while torrenting them in the background. Yes, this means that while you watch the movie, the app acts as a torrent client and continues to seed and leech it. Now, you may be wondering about the legality of it all, and we must stress here that downloading any copyrighted file is illegal. However, torrents themselves aren't illegal and are a perfectly valid means to download and share files.
Going through the FAQs written by Popcorn Time's developers makes it clear that they do foresee their app being used for piracy. To the question "Is this legal?", they reply "Depends on where you're from, really. Once again: we're using torrents, so if you really care, you'd better google what the legal situation around these protocol is where you live." Also, the developers state that they rely on YIFY (a popular source for movie torrents) for the software's database of movies. We installed the app from Popcorn Time's website and saw that indeed, the app's database was populated with latest movies like 'Frozen' and 'American Hustle'.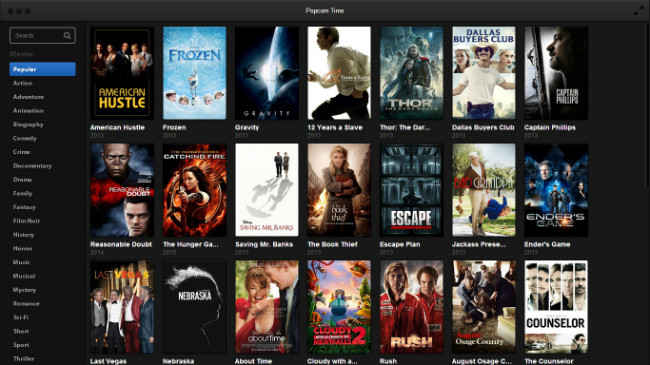 The application will also stream the movies automatically in HD (or the best available quality). Once a movie has been completely streamed, the downloaded file will be moved to a 'secret' folder in your system and will be automatically deleted once you restart your machine. The app provides no way to locate where the file is saved.
You can head on over to the
Popcorn Time website and download the app
(it's still in beta) for Windows (7 and above), Linux and Mac. We must mention here that downloading copyrighted content is an offense in India under Section 66 of the IT Act, so, you know, do what you think is legal.
On a side note, it will be interesting to see how quickly the website will be taken down or blocked. After all, nothing moves the entertainment industry to action quicker than the mere whisper of the word "piracy."