Vostro 3501
Popular tech to stay connected anywhere. Save more on exciting Dell PCs.
Click here to know more
Advertisements
It might feel a little confusing to now have an Opera 11.60 beta while Opera 12 has been in the news recently. Snapshots of Opera 12 have been available from quite a while now for those who like to stay on the cutting edge however there is a slight change of plans from Opera Software; Opera 12 will be delayed, and an interim Opera 11.60 will be released. The good news is most of the awesome features that were to come with Opera 12 will now ship in Opera 11.60 instead.
So why release Opera 11.60 instead of Opera 12? Well, because one of major features that was supposed to come with Opera 12, hardware acceleration is still not to the level of quality that Opera Software would like, and they'd rather have it done right, than done fast. So while hardware acceleration, WebGL and Themes won't make it in this version other major features of Opera 12 will, such as:
The improvements to Opera Mail are a completely new addition, and worth taking a look at. Opera has always had a decent email client for those who still use one. Well integrated into Opera, and light while still being very functional. Now the mail client has received a visual overhaul, redesigned simplified interface, new icons, etc.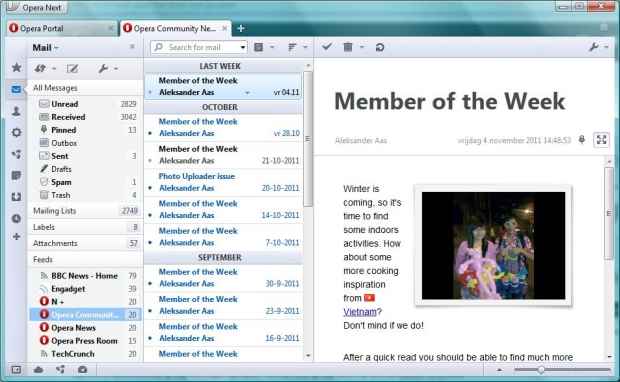 The mail interface now features a two-lined message list, with messages on the right instead of below the message list. This is similar to Outlook and works a lot better on today's wide-screen monitors. Of course, the old layout is still available for those who prefer it. Mails can now also be "pinned", the equivalent of starring them on Gmail (pinned messages will sync to starred messages on Gmail).
Opera is also now the first browser to support HTML5 microdata.
The beta version of Opera 11.60 can be downloaded from Opera website, although be careful while installing as it will upgrade your stable Opera 11.52 install. Opera has posted instruction for how this beta version can be installed alongside the stable version. This version is also separate from the Opera 12 builds, which will continue to be released in the Opera.Next channel.