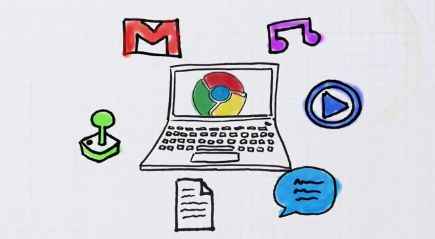 UPDATE: Google has added videos about several aspects of Chromium OS. You can find them at the end of the post.
All right, so TechCrunch was
off
about Google launching the much-hyped Chrome OS this week; but what Google has done is make the source code for it available for download to anyone interested. So basically, the people at Google and external coders can now work on the underlying operating system at the same time, said Sundar Pichai, Vice President of Product Management.
In a demonstration of the new Chrome OS at the Google headquarters at Mountain View, California, Pichai mentioned a few things that are worth noting. First, that the operating system is, as expected, a glorified version of the Chrome browser itself. The look and feel are pretty much the same, with just more eye-candy and features in the Chrome OS.
Also, the Chrome OS will work only on
Solid State Drive
s, said Matthew Papakipos, Engineering Director for Google Chrome OS. That's right, no hard disks with moving parts will be supported. So if you planned on running this on your computer with a dual-boot system, think again! More importantly, Pichai said that the amount of hardware supported will be selective and Google will support only 'referenced hardware'. The company will be tying up with hardware manufacturers to offer the new Chrome OS on selected devices – netbooks, tablets, laptops or anything else. An open-source operating system on a closed line-up of devices? Irony, thy name is Google!
One extremely impressive factor of the demonstration was the boot-up time. From a cold boot on what looked like an Asus EEE netbook PC, Chrome OS was at the login screen in seven seconds. Google said it will take only another three seconds to be on the Web and browsing. Quite cool, that…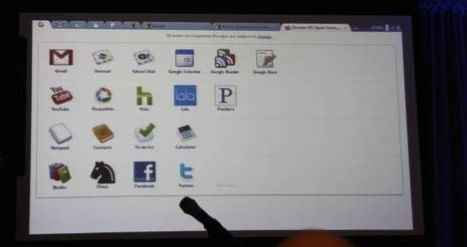 A screenshot of Google Chrome OS, courtesy Gizmodo.
Pichai stressed that the goals of Chrome OS are the same as that of the browser – speed, simplicity and security. The speed is obviously the reason that they are using only SSDs and not HDDs. To make simplicity a strong factor, the Chrome OS will be reliant completely on the cloud with almost no support whatsoever for offline usage. There will be no desktop applications available – none whatsoever! It's all in the cloud with this one, and aimed primarily at portability with devices like netbooks.
Google has released a video to introduce the new operating system:
Summing up, it's highly disappointing to realise that Chrome OS is not going to be available for anyone and everyone. When Google first announced the concept of an open-source operating system, it seemed like Linux would finally get the push it needed from a technology giant, and the world would have an operating system that could really compete with Microsoft Windows and Apple Mac OSX. Unfortunately, that does not look like it would be the case.
UPDATE: Google has added a few videos with their engineers talking about Chromium OS
Chrome OS Fast Boot
Chromium OS Security
Chromium OS and Open Source
--–--–---–----–-----–--–----–----–--–----–---–--–---–--–----–---–
Here's the full press release from Google:
In July we announced that we were working on Google Chrome OS, an open source operating system for people who spend most of their time on the web.
Today we are open-sourcing the project as Chromium OS. We are doing this early, a year before Google Chrome OS will be ready for users, because we are eager to engage with partners, the open source community and developers. As with the Google Chrome browser, development will be done in the open from this point on. This means the code is free, accessible to anyone and open for contributions. The Chromium OS project includes our current code base, user interface experiments and some initial designs for ongoing development. This is the initial sketch and we will color it in over the course of the next year.
We want to take this opportunity to explain why we're excited about the project and how it is a fundamentally different model of computing.
First, it's all about the web. All apps are web apps. The entire experience takes place within the browser and there are no conventional desktop applications. This means users do not have to deal with installing, managing and updating programs.
Second, because all apps live within the browser, there are significant benefits to security. Unlike traditional operating systems, Chrome OS doesn't trust the applications you run. Each app is contained within a security sandbox making it harder for malware and viruses to infect your computer. Furthermore, Chrome OS barely trusts itself. Every time you restart your computer the operating system verifies the integrity of its code. If your system has been compromised, it is designed to fix itself with a reboot. While no computer can be made completely secure, we're going to make life much harder (and less profitable) for the bad guys. If you dig security, read the Chrome OS Security Overview or watch the video.
Most of all, we are obsessed with speed. We are taking out every unnecessary process, optimizing many operations and running everything possible in parallel. This means you can go from turning on the computer to surfing the web in a few seconds. Our obsession with speed goes all the way down to the metal. We are specifying reference hardware components to create the fastest experience for Google Chrome OS.
There is still a lot of work to do, and we're excited to work with the open source community. We have benefited hugely from projects like GNU, the Linux Kernel, Moblin, Ubuntu, WebKit and many more. We will be contributing our code upstream and engaging closely with these and other open source efforts.
Google Chrome OS will be ready for consumers this time next year. Sign up here for updates or if you like building your operating system from source, get involved at chromium.org.