Groupon's India website crashed after the site offered a discount deal for onions at Rs 9 Kg.
Onions are an essential ingredient in every Indian household and its rising price is having a major impact on the common man. Groupon India recently offered a deal on onions at a discounted price of Rs 9 kg... which caused the site to crash due to the massive demand.
Groupon offered a daily deal on onions at Rs 9/ Kg. The price was so attractive that led to a flood of traffic on the website, causing it to overload the company's servers and crashing the site. Groupon sold about 3,000 kilograms of onions, in just 44 minutes. More than 8,000 kilograms were bought by over 17,065 users.
Onion prices has more than tripled in the last few months in India. Onions were selling as high as Rs100 / kg in the past few weeks. The depreciating rupee value has made matters worse and India has run into food supply shortages, resulting in dramatically inflated food costs.
Groupon advertised the deal in a tongue-in-cheek manner, stating, "people haven't experienced onions in a long, long time.". Ankur Warikoo chief executive of Groupon in India stated that the company wanted to sell the onions at a price that most of the users have completely forgotten about.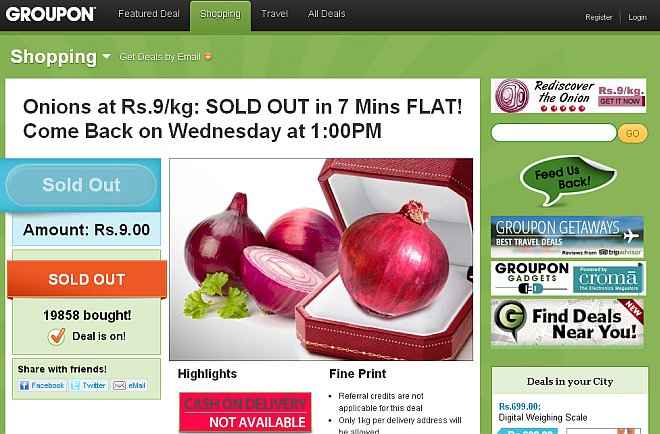 It was the first time ever the company had put onions on sale and the response, Warikoo said, had been "overwhelming". He added, "This kind of onion price was last seen in 1999. The first day itself we ended up selling 5 000 kilos. Today [Friday] our site crashed completely for 10 minutes. It's been absolutely fantastic."
Source : The Verge