MTNL Delhi launches four new FTTH plans for its subscribers with a promise of an ultra high speed.
State-run telecom operator Mahanagar Telephone Nigam Ltd (MTNL) has introduced four new Fibre-to-the-home (FTTH) Broadband plans, starting at Rs. 1,000 per month. The FTTH broadband is promised to deliver 10Mbps download and upload speeds.
The MTNL FTH-S1000 offers 10Mbps download and upload speeds with fair usage limit up to 30GB (Download Upload). The plan is available for Rs. 1,000 (monthly charges). The FTH-S2000 plans gives you data usage up to 80GB. This plan is available for Rs. 2,000.
The FTH-S4000 and FTH-S6000 gives 200GB usage and 320GB data usages respectively. The plans are priced at Rs. 4,000 and Rs. 6,000 respectively.
It's notable MTNL's FTTH tariff plans are part of a 90-day introductory offer. The tariffs may be increased later this year. Learn more about the MTNL offer here.
To recall, the FTTH is relatively new method of providing speedy broadband services to enterprise as well as general public. MTNL FTTH broadband services include IPTV, HDTV, 3DTV, video on demand , Bandwidth on Demand, Instant Video conferencing , interactive gaming among various other VAS.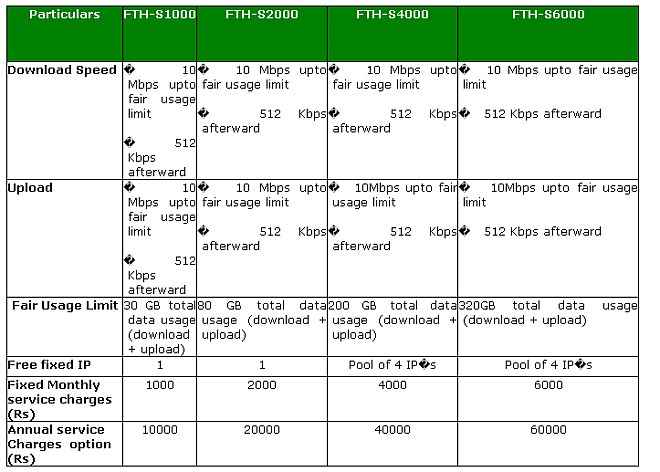 Source: TelecomTalk