If one has a relatively good understanding of the internet, they might have navigated to the website "Have I Been Pwned" (HIBP) from time to time to check whether their email id and passwords have been compromised. Now, Mozilla has launched a similar service called Firefox Monitor that combs through the HIBP database and tells a user if their email has been compromised. The service is a result of Firefox teaming up with Troy Hunt, the creator of HIBP. With Firefox Monitor, one will also be able to subscribe to the service to receive notifications in case their email addresses are found in future leaks. Firefox users will also receive notifications when they visit a website that was breached in the past. It should be noted that simply scanning for an email id using the aforementioned services does not confirm that an email id is completely safe.
One can head over to monitor.firefox.com to check if their credentials have been breached. In case they have, one is advised to immediately change their password on the website where it was leaked from and also on any other service, app or website where the same password is used. Firefox says it doesn't store any of the email addresses shared with it. Additionally, Firefox uses hash range query API endpoints for encrypting an email address before it's sent to the HIBP database for being searched. Only the first six characters of the hashed email ID is sent to the HIBP API, which then finds all entries starting with these characters and responds with suffixes with the list of breaches. You can read about the process in detail here.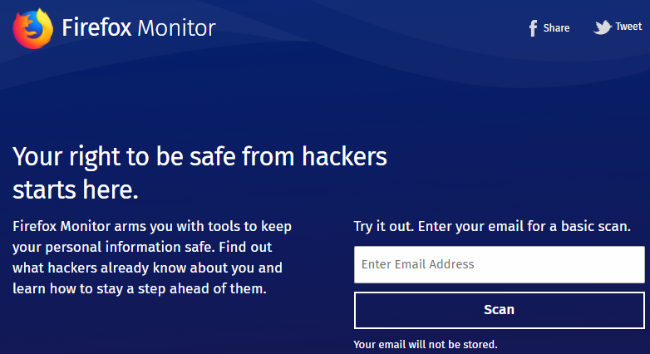 Late last month, Mozilla announced that its Firefox web browser will soon block ad-traffic by implementing a "will not track" policy. The feature was recently implemented and the Automatic Tracker Blocking feature will now remove ad trackers and cookies from web pages, which is said to make for a faster, clutter-free and more secure browsing experience.
Mozilla also recently rolled out its Firefox Reality web browser, which is designed from scratch to work on stand-alone virtual and augmented reality (or mixed reality) headsets. It can be downloaded via the Viveport, Oculus, and Daydream app stores. The new web browser enables users to surf the internet in a 3D environment and it uses the company's Quantum engine for mobile browsers. users will be able to switch "seamlessly" between surfing the web from 2D to 3D and vice-versa. You can read more about it here.