Vostro 3501
Popular tech to stay connected anywhere. Save more on exciting Dell PCs.
Click here to know more
Advertisements
MixRadio today chose the MixRadio Music Connects event in Mumbai for the global launch announcement of its new natively built recommendation engine. The new dynamic personalization engine is developed specifically to best deliver its one touch 'Play Me' personalized radio experience for a global audience.
Over the past 5 years, MixRadio has supplied a legitimate digital music service to over 20 million users in India. Recent research by MixRadio has revealed that mobile music streaming in India will continue grow by a massive 110% in the next four years, meaning 1 in 15 mobile music streamers globally will be in India. The research showed that personal radio will dominate this growth, and having existing data and preferences for millions of users already, MixRadio's new personalization engine will deliver a new level of experience for Indian listeners.
The new engine curates a greater breadth of music in a more highly personalized way than ever before. It uses billions of data points from millions of consumers around the world, and uses them to deliver a completely relevant and unique listening experience. Listeners are delivered tracks from deeper into the catalogues of the artists they love, facilitating rediscovery of forgotten favourites alongside discovery of new artists. The new engine evolves the 'Play Me' feature of MixRadio to be an even more personal, even more effortless experience.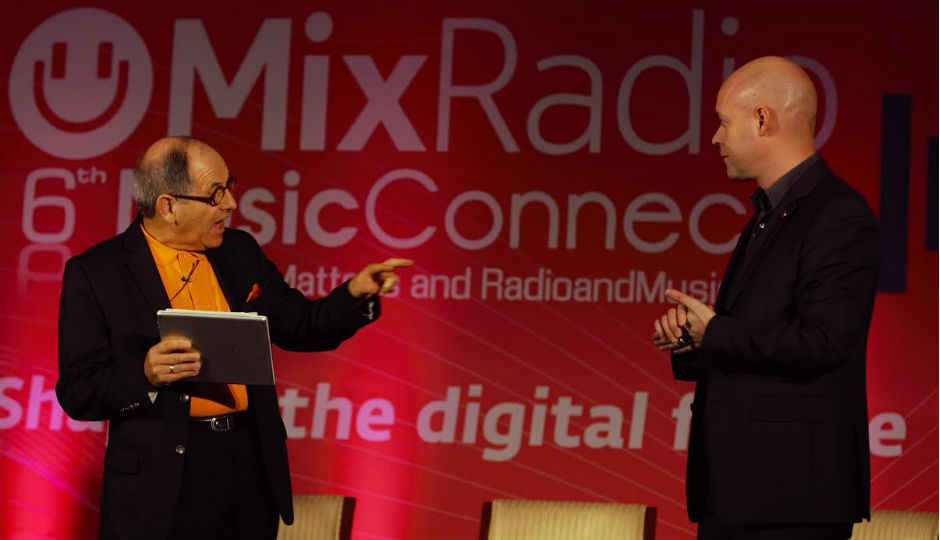 (L) Ralph Simon, The Father of the Ring Tone, interacting with Jyrki Rosenberg (R) from MixRadio at the launch event
Jyrki Rosenberg, Head of MixRadio, comments "The challenge our development team have faced is curating overwhelming large catalogue of music, 32 million tracks, for a single listener in a way which is completely relevant and personal. Our promise to listeners is to provide their own personal radio station at the touch of a single button, and the new engine lets us truly deliver on that promise".
The new engine has been in development and evolution since 2010, MixRadio has been moving listeners to the new recommendation engine over the past months, completing the shift today. Initial reports show the new engine is improving retention and engagement with the service.
Check out the infographic below to see how MixRadio envisions the future of streaming music in India. Some interesting stats in there: MixRadio claims to have over 30 million songs in its library – that's more than what Spotify offers; close to 50 per cent of its audience is in the 16-30 yr-old demography; and so on.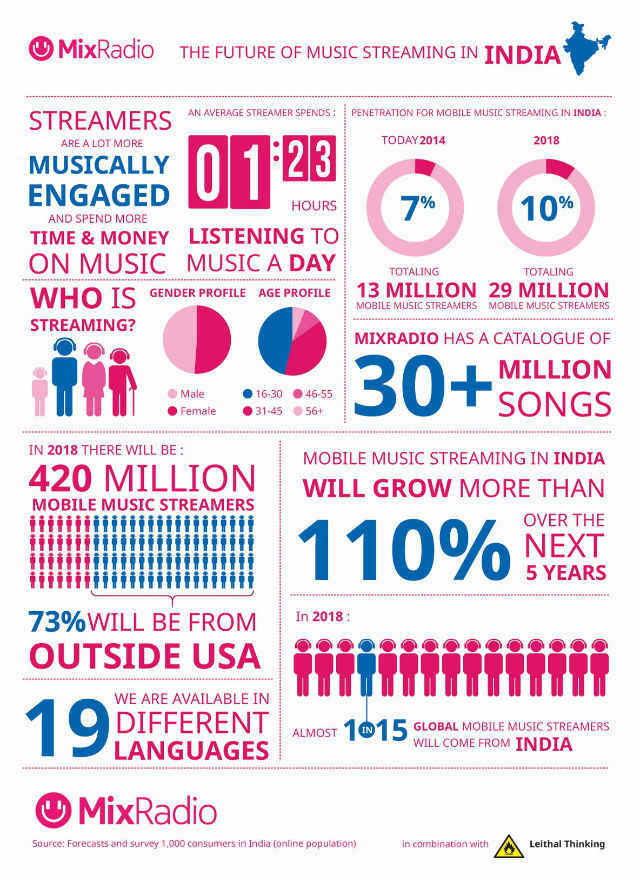 Karan Grover, Head of Entertainment for IMEA at MixRadio, adds "This is a break though for Indian music fans in terms of how they enjoy music. The new personalization engine will allow us to build on our heritage in this market and make even better use of our huge breadth of regional music. We have been collecting data points on that music for many years, allowing us to serve up that music accurately to the people who will love it. We filter our recommendation of songs by language and our metadata takes into account not just the singer but the composers, actors and directors associated with a particular song, ultimately allowing us to deliver a richer personalization experience.
We are confident that creating the best possible personalized music streaming experience is the most effective business model we could adopt. If people are loving their listening experience, they are going to listen to more music for longer, which is good news for everyone. This combined with the knowledge we have built up around customizing our offerings to local markets in terms of delivering the right price points and billing options, means we are in a strong position to build on the head start we have in India and flourish in the coming years."

Jayesh Shinde
Cower, puny human, for I am Big Daddy! The ground rumbles beneath my feet, the very air you breathe resonates to my primal roar. Mere mortals, I am the scourge of the n00bs, destroyer of worlds. Fear my might, tremble in my presence.